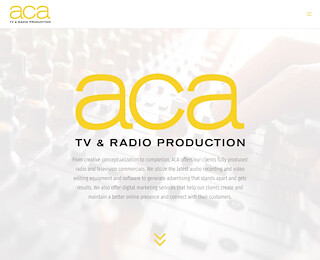 Simpler Times and Change with ACA Advertising
Most business owners have a hard time keeping up with their advertising and need a company like Advertising Concepts of America (ACA) to create advertising that works in the modern world to reach their target audience. ACA Advertising has been helping businesses since 1972 but to understand how advertising has changed, we need to look back at a simpler time.
The Pearl Harbor attack on December 7, 1941, propelled America into WW II. Five months earlier, Bulova Watch Company placed a 10-second ad on the NBC affiliate (WNBT) right before a televised baseball game between the Brooklyn Dodgers and Philadelphia Phillies. The black and white ad was a map of the USA with the face of a Bulova watch covering most of the central states and a voice saying, "America runs on Bulova time!". The July 1, 1941 event was the first ever advertisement on the new media called television.
$9 to $5 Million
That ad cost Bulova a whopping $9.00 (about $160 today) so compare that to the $5 million some advertisers will pay for a 30 second Super Bowl ad in 2019. Advertising is big business and has evolved over the years to keep up with the advances in computers that are making newspapers obsolete and generating lots of "air time" on Facebook and YouTube and other social media.
ACA Can Help in Many Ways
Let's look at the various ways ACA can promote your product or service:
TV and Radio Commercials – Unlike newspapers, advertising on TV and Radio is still a great way to get your message across. ACA began business in 1972 and knows what works. Radio ads can reach millions of people who spend hours in the car for work or business. Drivers must keep their eyes on the road, but the ears are open to get that message.
Digital Marketing – this is considered all marketing that uses digital technology and the internet. E-Mail, social media sites, websites for businesses are all part of digital marketing. This has even changed the way articles are written as bloggers strive to find ways to enter keywords into the text of articles to attract readers. If you are an aging baby boomer a bit behind the times, SEO means Search Engine Optimization.
Audio and Video Production – Some say that the almost hypnotic booming bass voice of James Earl Jones was key in the early success of CNN. ACA uses nationally known voices to create the commercial that will command your attention. They will also create eye-catching TV Commercials, infomercials and web videos for a corporation looking to generate more income.
Media Buying – If you have a product that appeals to people who enjoy country music, then you certainly don't want to see your advertising dollar directed at those into hip-hop and rap. ACA media buying directs your ad to the right audience.
Motion Graphics – Digital animation and footage will make your ad come to life with the illusion of motion that will seem real to the viewer.
Direct Mail – this is an economical way to reach a lot of people via text, email and even that postcard delivered via the USPS. That will appeal to those who prefer not to use the computer. Like telemarketing, it is a "numbers game" to attract a few customers from a large population.
ACA Advertising is based in Fort Lauderdale, Florida and can be reached locally be calling 954-764-8864. Advertisers can also call 800-882-8588 or send an email to [email protected] to get their new advertising campaign started.