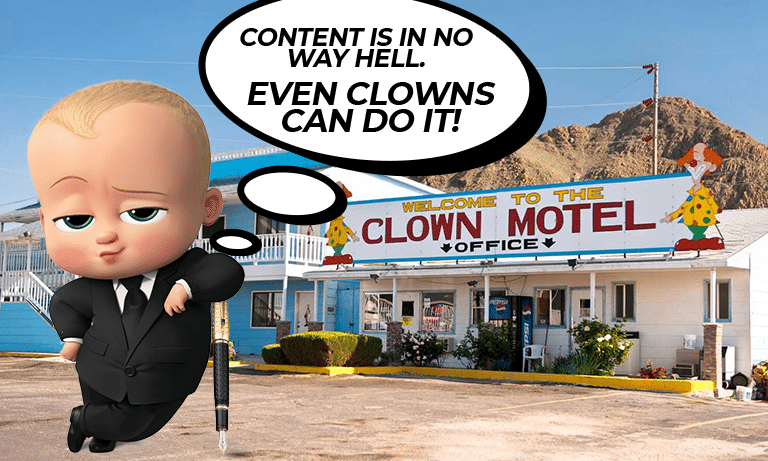 What Is Done-For-You Marketing?
I recently pitched a company who was unhappy with their SEO provider. The vendor was making the company pay for the fancy SEO software themselves and requiring the client to write and optimize their own content.
This is the inverse of Done-For-You marketing where you pay someone to tell you to do the work.
As the name implies, DFY marketing is where you pay someone and they do the work for you. Do It Yourself (DIY) is where small business owners get down and dirty and produce the content and digital marketing campaigns themselves.
Click To Tweet
DIY vs. DFY Digital Marketing
The advantage of DFY Marketing is basically a time shift. 
You outsource and receive much needed time to concentrate on some other aspect of your business than being a part-time marketer. You could go on vacay with the family where you RV to the Clown Motel on your way to Vegas. Or you could pull an all nighter becoming a real estate magnate on the Monopoly app game.
No judgement …  hire us or another content provider and do as you wish with the time that we save you.
DIY Savings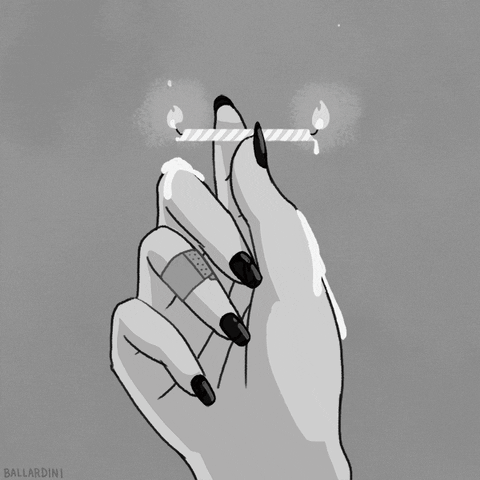 The benefit of DIY digital marketing is that you save money you would otherwise pay a freelancer or agency like us.
The barometer is how mature your organization is. If you have resources and value your time, you may want to pursue Done-For-You services. If you are still on the Baby Boss spectrum of corporate titanhood, then you can go at it yourself as a business owner and continue to burn the candle at both ends.
What Are Done-For-You Marketing Services?
When it comes to content writing, you can hire someone else to crank out original website, advertising and social media copy. 
You could do it yourself but trust an American writer who wrote numerous short stories, books, essays and memoirs. This same author won numerous literary awards, had one of his books made into a Hollywood blockbuster with  prestige thespian du jour Meryl Streep and was even made Commander of the Legion of Honor by a French President who commissioned the pyramid-glass deal in front of the museum where you can see bros drinking beer and trying to make the Mona Lisa smile.
William Styron did, indeed, have swag and once famously said, "Let's face it, writing is hell." 
As a blogger with next-to-nothing cultural impact but many hours at the desk, I second Styron's observation. Hire someone else to do the writing because writing sucks!
Click To Tweet
If you think the writer "doth protest too much," face an empty page or screen and see how many minutes, hours or days it takes for you to agree with the author of Sophie's Choice.
If you are not a masochist, think of it this way …
When you need to change the oil in your car, you go to Jiffy Lube. You can do it yourself, but is all that work and hassle really worth it when you can have it done for under $30?
Video Killed the Content Star
They have been saying this for years, but over 80% of content people consume online in 2021 is video.
If you have the resources, you can hire someone to create videos for you. Creating engaging content doesn't have to be a commitment in the thousands of dollars. 
You can hire a creative content agency to write the script and then hire a film student from a local college to shoot and edit it inexpensively. 
In the old days, one would enter a Business of Distinction and see an expensive oil painting in the boardroom of the founder/chairman/OldWhiteGuy looking stoic.
A slick corporate video this century is the heir to the boardroom oil painting of yesteryear. It signifies a brand oozing purpose and resources.
Outsource video production and play in the prestige game.
I Saw Your LinkedIn Profile & You're Special. Now Buy Something From Me.
Stop spamming people on the best resource for B2B online. 
Copying and pasting the same dried up script is not how you catch other businesses' attention. Hire a professional that will not only craft messaging scripts that command attention but create an entire content package for a personal blog and social media that will brand you as an expert in your industry that can "help" prospects, not "sell them."
Utilize a digital marketing service that helps devise a tailored marketing strategy and raises your personal brand and authority through effective content.
Tips on Finding DFY
Content writing is not creative writing. You need to be both creative and analytical (research keywords etc). If you hire a poet to do a blog piece, they may get you beautiful words that no one reads because it is not optimized for SEO. 
However, if you get your copy automated, the content will be too generic and not glue readers' eyeballs to the screen. A professional digital marketing agency with a fresh marketing strategy can help you strike the perfect balance between creativity and analytics. 
Bro, I GOT Video. My Feng-Shui Consultant's Au Pair Knows Spielberg.
When outsourcing video production, ask to see a freelancer's work. If they don't have a "sizzle reel" or YouTube/Vimeo portfolio, be wary. Any good video producer will want to have their best work front and center. 
Ask to see a list of equipment they have and if they plan on investing in gear just for your shoot. If they are shooting an interview with you on camera and they don't have a makeshift teleprompter, even a tablet with a teleprompter app on it, be wary. Before doing an interview, ask them if they need to get a "B roll." If they don't know what that is, then consider hiring someone that has a clue.
I Hope This LinkedIn Bot Finds You Well
When it comes to LinkedIn marketing, does the freelancer or agency rely on automation? LinkedIn is hammering people who use scrapers and automation to connect and message with people online. Yeah, you can pay $10 a month for a bot to blast out messages to prospects, but what happens when LinkedIn shuts down your account for breaking their service agreement that strictly prohibits automation? Avoid this conflict by paying for a professional marketing team to help build relationships with potential customers through original, engaging social media content. 
Can We Create a Mid Funnel of SQLs Who Convert at a Low CPA?
Above all, if your freelancer or agency starts showering you with jargon when you ask questions about their digital marketing strategy, be wary.
Click To Tweet
If they can't describe what they will do for you clearly and concisely, then they are trying to disorient you to try and justify their fee, i.e. con you.
At Content With Teeth, our quality content matches the cost. Just like with any aspect of your business, creating a digital marketing strategy is an investment. Small business owners often try saving money, but when it comes to marketing, lower costs will get you a reused blog post and cliché email marketing copy. We provide content creation but can help track analytics via Google, HubSpot and other digital tools to see if you are "ROI-positive."
We're In The Space Age Of Marketing
You can talk to an audio device and book a reservation at a restaurant. You can skate just above the ocean on a board on the 4th of July while holding an American flag like the Facebook guy. The Jetsons age is here! 
Get DFY marketing and remove the headache of doing everything yourself. Focus the time saved on being a part-time marketer on increasing sales and earn enough dough to launch yourself into space like George Jetson or the Amazon dude or the Tesla dude or the Virgin Group dude or the ….
If you just want help in a marketing campaign or with content creation and don't aspire to be a gazillionaire tech d-bag, definitely reach out and say hello.