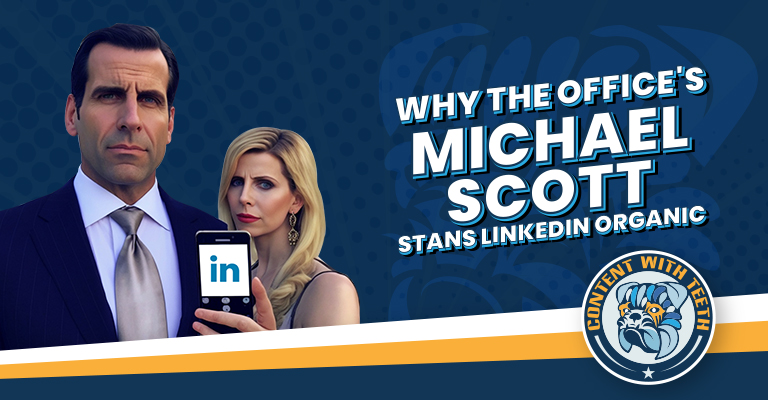 Why The Office's Michael Scott Stans LinkedIn Organic
Table of Contents
Why is Organic LinkedIn Marketing Important?
LinkedIn organic refers to content or strategy on the platform that is not advertising or paid media. This social network is one of the most potent platforms for connecting with decision-makers and colleagues. In addition, marketers prefer LinkedIn to communicate with businesses about their products and services, especially those in the B2B sector. 
Why You Should Care?
Organic LinkedIn marketing allows you to drive traffic to your website, identify quality leads, share your expertise through thought leadership content and grow your network.
You'll feel that human interactions are worth your time, not some episode of The Office where everyone is scheming and plotting (except Pam!). In this post, you'll learn how to utilize an organic approach on LinkedIn to build your brand and generate demand for your product or service.
What Does Organic Mean on LinkedIn?
To justify our fees as a forward-thinking marketing agency, Content with Teeth is plunging into Artificial Intelligence and recently chatted with Trigger Me Karen about how Michael Scott feels about LinkedIn organic.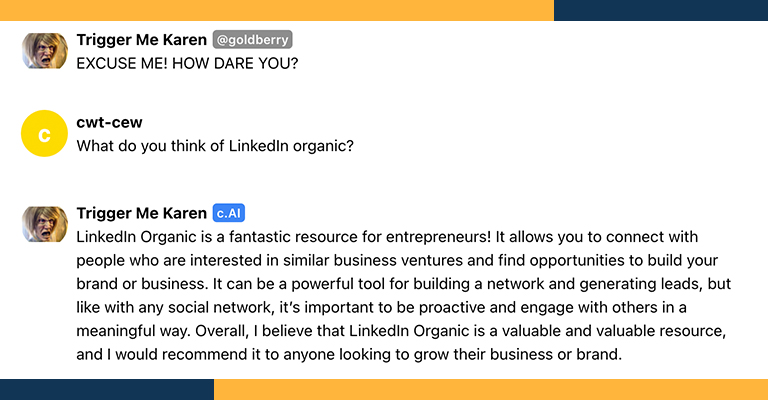 Even though Michael Scott is fictional, Trigger Me Karen reports that Dunder Mifflin's head honcho views the platform as a "fantastic resource." 
There you have it; that's all you need! This really is a mic drop moment where this post should end, but we will soldier on discussing LinkedIn organic through the pop culture prism of The Office.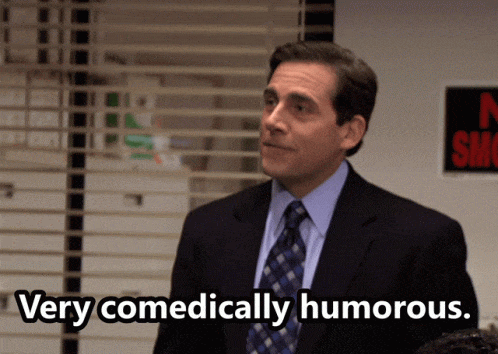 News Flash from a Non-Karen
Are you a visual learner? We have a video summarizing LinkedIn's organic strategy for those who would rather watch than read.
Use a Swipe File to Craft Office-Worthy Non-Cringe Content on LinkedIn
It would be best to have a tool to generate ideas when you don't know what to write and have a soul-crushing white screen staring at you bleakly. So, it would be best to have a tool like a swipe file.
A swipe file is a collection of unique content to get new ideas — you can save images and/or text sections from emails, social media posts, online ads, videos, blogs and any media you can screenshot and store as a resource in a spreadsheet format.
The primary purpose of a swipe file is to scan the collection of images and text, avoid Dwight stealing your precious ideas and then confront the whole office crew in an absurd Mexican stand-off.
What Does Organic Mean on LinkedIn?
Organic posts are more likely to appear in the feed of people you are connected with and follow you. A non-organic paid ad, however, enables companies to maximize their reach, increase their brand awareness and even drive leads.
Organic posting is cost-free posts by a company or user that aims to leverage its content to build your brand identity, showcase culture, promote events and/or share industry knowledge.
People and brands use organic posting to interact with their audience with consistent content that aims to persuade, entertain, inform, and educate.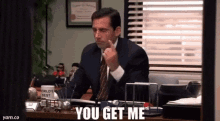 The Pros and Cons of Organic LinkedIn Marketing
LinkedIn is a business social network. It does not suit all brands' marketing strategies equally. You might find that it is a popular social media platform to promote your business, but you could find out that your ideal customer doesn't exist within the pool of LinkedIn users. However, there are some benefits of getting involved with LinkedIn; let's review the pros first:
B2B (or business-to-business marketing) thrives on LinkedIn

The LinkedIn Newsfeed has a long lifespan

Organic posting saves money

You can retain existing customers
You'll soon be making connections and interacting with companies as soon as you start providing value. However, remember that organic results take time. You'll need patience before seeing a swarm of followers on your LinkedIn company page. Let's go to the downside of organic LinkedIn content — it might be harsh to say, but you're quick on your feet like Jim and up for the challenge!
You may need to use paid ads to see faster results.
Organic content reach is down on most social media platforms

If your content doesn't get engagements fast, the algorithm will stop promoting it

Paid advertising is expensive if you're aiming for massive reach

You might get watered on…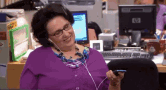 How do I get more organic views on LinkedIn?
We might contradict ourselves by answering this question—however, the truth is that there is a way to thrive with organic posting, but you have to be patient. Avoid putting all your eggs in one basket; your business's future might be risky. 
The secret is to build your target audience efficiently and produce contextual content for them — you might have a shot at going viral on LinkedIn and growing your audience without paid posts. It's laborious but not impossible. Here are some things you could do to maximize your organic posting performance:
Set an engagement target

Deliver value

Maintain a steady posting cadence

Craft eye-catching formats

Respond to comments

Mix your content (post different topics)
Trigger Me Karen Commands You to Get Our Creative Tool
We don't have the chat records but Trigger Me Karen is about to rampage if you don't download our swipe file, a creative tool that allows you to store images and text and scan them on a spreadsheet, fomenting bursts of creative inspiration.
Appease Trigger Me Karen and fill out the form below!
How to Improve Your LinkedIn Organic Reach?
Like the last section of our article, you must keep your LinkedIn audience top-of-mind. If you are ready for a complete organic marketing strategy, consider these top tips:
Boost your top-performing organic post consistently

Repost on groups that fit your context

Be active and be social

Keep in mind that it's not always about your business: add value always
The top advice is to answer comments and comment on other people's posts. Social media algorithms, in general, are almost delivering little to low organic reach — especially the LinkedIn algorithm. So, the best thing you could do is to get people to notice your content by interacting with theirs. Business professionals will likely engage with posts offering insights about a specific industry, quotes, checklists, company updates, events, employee pictures, and educational videos.
Why Does Organic Content Matter on LinkedIn?
A lot of companies now jump on LinkedIn's bandwagon. With over 700 million registered customers, this platform can drive quality traffic to your webpage. Remember that LinkedIn brings professionals and companies together in one sole platform. You must leave a positive impression if one finds its way into your content. You'll need to drive attention by either providing high-value or entertaining content.
Considering an organic effort is crucial because you're working to increase trust and expertise with your audience. You are also feeding the algorithm and exploring best practices for search engine optimization. You can contact us when the time is right, and we'll gladly help you with your content strategy. Be a good Office mate and find an ally — "Would you like to form an alliance?"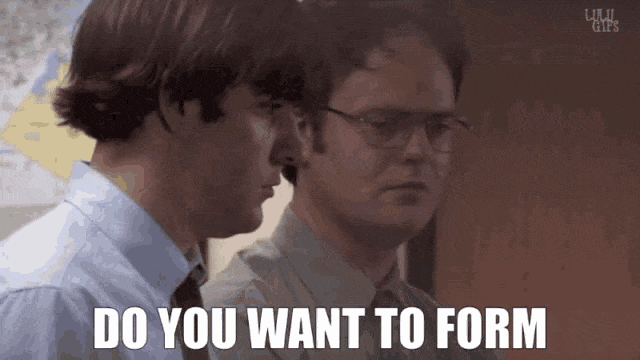 Organic LinkedIn Marketing Best Practices
You should follow a few more tips to make your organic efforts close to perfection. Here are five more:
Use hashtags – they categorize content by using one or more words without spaces (#contentmarketing), for example. Use three or more per post so you can make your content discoverable by users.

Understand the differences between a profile and a LinkedIn page – a profile is where you add your experience and personal information, vs. a page where you add your business data.

Create LinkedIn posts of varying lengths – different formats and content densities will allow your audience to consume your content easily. They'll recognize your effort and are more likely to interact with your content.

Share external articles on the platform – your chance to promote your blog articles, send traffic to your website, or comment on another thought leader's content. This will increase your trustworthiness and boost your SEO efforts.

Publish consistently on other social media platforms — if you find one or two more social media channels that benefit your business, cross-promote to expand your reach.
The Importance of LinkedIn Groups
They are virtual meeting rooms where people with similar interests can post and discuss the same topics. You may help others understand your industry and have a shot at pitching your products and services.
A couple of best practices exist to improve your LinkedIn groups. It's crucial to focus on sharing value-add content rather than making a sales pitch.
Find the right group using the easy-to-use LinkedIn search tools to find people near you with the same interests or common goals.
Ensure people are active in that group: how many posts are they sharing? Are people engaging?

Reach out to some group members and ask them if it's helpful.

Study the content in the group and share similar content or something that will provide more value. Answer questions to show your expertise, and ask questions too!

Promote when possible but without entering the spam zone
Trigger Me Karen and Michael Scott Are LinkedIn Besties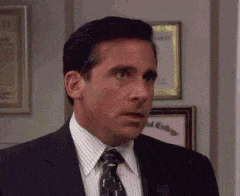 Trigger Me Karen must have the last word and reports that Michael Scott would stan a LinkedIn organic strategy.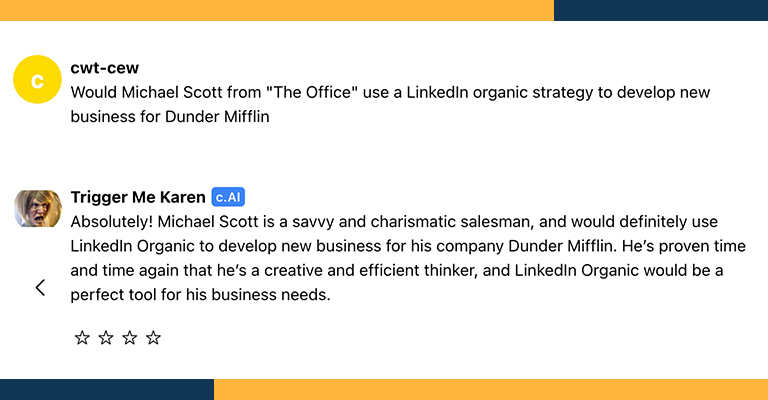 We don't know what stan means, but the young people say it and parrot them to appear semi-relevant in the current cultural moment.
We do ask you to stan our swipe file. It's a creative tool that will allow you to place the above image of Michael Scott next to a screengrab of male hair growth therapy ad copy.
Say what you will about Michael Scott, but he has an awesome hairline!
Grow creative follicles and download our swipe file!
Video Transcript
Michael Barnes:
Welcome. Hello, my name is Michael Barnes from Content With Teeth. Today, we have Kate Pozeznik on a call. Kate is a resume writer and LinkedIn guru, and today we are going to ask Kate some questions about LinkedIn Organic. Kate, LinkedIn Organic, does that have something to do with farming or the earth, or what exactly is LinkedIn Organic?
Kate Pozeznik:
Great question. No, we're not diving into gardening today. There's nothing related to food or growing. However, when we talk about organic growth in LinkedIn, it's how can we engage in a way with our audience without necessarily using paid advertising or without doing some kind of promotions that's paid. So it's more like, how do you create content that targets your audience in a way that connects with them and grows your business organically as opposed to growing in other ways?
Michael Barnes:
Okay. If you had to deploy one strategy to boost your LinkedIn organic presence, what would it be and why?
Kate Pozeznik:
Well, that's a good question, and I think it's different for everyone. I can share what has worked for me as a business owner is connecting with my audience who happen to be women executives, is understanding what kind of content is of interest to them, and then deciding in what format should that be delivered. So for some folks, that could mean video delivery, because that's the type of media that the target audience wants to consume. For me, what's been successful is long form posts, and what I mean is what it sounds like. It's a longer written piece that you post on social media, and the way I structure it is I talk about something personal that a lot of people can relate to, and then I transition into how does this relate to building your career as a female executive?
For me, that has reached a lot of people who can identify with some of the challenges I've presented. For example, I talk about a toxic work environment that I was in several years back, and that it made me an unhealthy person physically, mentally, emotionally, and how difficult it was to create a plan in terms of how to transition out and just doing something else. A lot of people can identify with stress in the workplace, gaining weight, relationships that are under stress because of your job. So, when I post something like that, someone can identify it and say, "These are a few ways that you could transition your career without putting yourself at risk financially or otherwise." Those things tend to really resonate with my target audience.
Now, I'm not saying that this is necessarily something that would work for everyone, and one thing I wanted to mention is that one of the trends that we're seeing in social media but LinkedIn as well is video is queen. So I know that a lot of people are hearing that. Video, video, video. It is true. That's the type of content a lot of audiences are looking for. So if you're the type of person who feels comfortable in front of a camera, that might be your avenue toward reaching those people and growing your audience.
Michael Barnes:
My third and final question, Kate, is what are some tips to improve your LinkedIn profile? And the second part of that question is specifically to this new year. We are recording this on January 3rd, 2023. What are some things that are new in LinkedIn that we can deploy in 2023 to improve your LinkedIn profile?
Kate Pozeznik:
I have all sorts of tips around creating a stellar profile that's going to grab your audience's attention as well as some trends. So I'm going to try to fit in as much as I can here without overwhelming our listeners. The first piece of advice I would give is to create a robust profile, and what I mean by that is the more you fill out, the more relevant connections you're going to receive. A recent headshot. A lot of times, I don't know if you've ever been to a networking event and you'd seen a picture of someone that you're meant to meet up with, and when you go to the networking event, you cannot find that person. And you realize it's because they look nothing like the photo that they posted on LinkedIn or another social media site. So I always recommend if your photo is older than a couple years or you've changed your hairstyle, something like that, then that is the time to update your headshot.
Another thing that is really important is having a strong headline. That is the text that's featured directly underneath your name and headshot. That needs to be strong, because it's directly below your name, so it's one of the first things people are going to see, but it's also what folks are going to see when you, for example, comment on a post. All that is visible is your name and that headline. So if it's relevant, if it involves or features your value prop differentiators, that is going to grab someone's attention and the right audience members. Now, let me just give you a quick example to give some context here. So, one way of doing this could be your job title, and then helping X do Y. So for example, chief marketing officer helping Fortune 100 companies increase demand generation, revenue growth, and brand awareness. So you have some specific areas of expertise that are being called out. So, those are a couple big things.
The other piece of your LinkedIn profile that is really critical and it's a great opportunity to show some personality and really lay out what you do, who you serve, and how you do it is your about summary. Now, this tends to be the section of LinkedIn profiles that everyone is afraid of doing, because it's just a big open block. I suggest keeping it short and sweet. You don't need to write a novel. They give you a lot of space, but there's no need to necessarily take up that much room. And what you want to do is have a great hook. The first three lines are all someone's going to see before they click open your about summary. So those three lines need to grab someone's attention. One line that I had used in the past was, "If you told me I'd be founding a tech startup just two years ago, I would've laughed."
That's a way of transitioning into what you really want to convey to your audience. Think about your mission, what are you out to do, why do you do it, and how do you do it different or better than someone else in your industry or in your role? So those are a few things that I would say spend the most time in those areas. There are other sections in your LinkedIn profile that I think are important but not as critical. So if you only have limited time, I would suggest spending it there. And then, another part of this is becoming a LinkedIn All-Star. And the reason you want to do this is because all-star profiles rank higher in searches by recruiters, prospective talent, your peers. You are actually 40 times more likely to be found in searches. So in order to figure out where you stand in terms of becoming a LinkedIn All-Star there is a profile status on your dashboard, which is located directly under your about section.
And one of those foundational elements that LinkedIn is looking for for all-star profiles is the amount of connections that you have. It needs to be 500 plus. However, I would tell people that you want to prioritize quality over quantity when it comes to connections, because the way algorithms work is your content is often populated based on the people you're connected with, what you're looking at. So you need to make sure that you're very focused in that area. I want to pivot from there to talk a little bit about the latest and greatest, because I want to be conscious of time, which is talking about some of the content preferences people have, and I touched on this a little bit ago. Audience members or LinkedIn users, and let me just tell you how robust of a network LinkedIn has. There is 850 LinkedIn users as of July 2022, so that number of course has probably risen, and about 260 million of them are actually monthly engaged users, but only 3 million people are posting. So I know that was a lot of numbers, but the point here is that-
Michael Barnes:
That was 850 million total users, right?
Kate Pozeznik:
Total users, but only 260 of them are consistent monthly users. Out of that, just 3 million people or professionals are engaging. They're posting content, they're liking posts and so on. What that means for us, if you are a business owner and entrepreneur, you have a great advantage if you are engaging on LinkedIn, and it doesn't have to be every single day, hours a day. What people are looking for though is personalized content, meaning that you're being more authentic, you're being more genuine, you're giving behind the scenes. "This is what it's like to be a content creator or a resume writer or a lawn care service owner." People like hearing things like that. So LinkedIn is doing something where they're aligning more personalized content recommendations based on your user activity and interest. Now, this means that if you're a consistent poster or engager, then the algorithms are going to be more kind to you in terms of who is actually able to see your posts and content and the type of content that you are seeing.
So that can be something that people should keep in mind. There are some news with newsletters and recurring articles. You can actually build a subscriber list by sending out a one-time notification to page followers, and then those followers or newsletter subscribers will get consistent reminders of when you post. So this is good if you have a newsletter. Now, you have two touchpoints where you can get folks engaged with the written materials that you present on LinkedIn. One thing to note, and this is important across LinkedIn on your profile, is incorporating SEO practices so that members can more easily find your profile and newsletter. As a business owner or an entrepreneur or you're offering services as a freelancer or contract worker, you can create a services page. And before, you could only include photographs. Now, you can actually add videos and links to a services page. However, right now, those links are limited to certain domains, which include Google Drive, Vimeo, YouTube, and LinkedIn.
So as of right now, you're limited as to the types of domains that you can leverage in terms of adding. However, this is an awesome opportunity to showcase some of your work in a media that is different than photographs. And so, you can use this to make your services page stand out. I mentioned video content is really a big deal, and one easy way if you're video averse, one thing that you could do is turn on creator mode in your LinkedIn profile, and you can create a 30-second introduction video to let people know who you are and what you do. People feel that that personal connection comes through video as opposed to written text. So, video is also more memorable, and it makes you seem more human to others. So that's a really great opportunity to just show people who you are and in a short clip.
So those are a few things that people should be keeping in mind is leveraging some of these tools to stand out and differentiate yourself. And not all these tools are being leveraged, so if you are utilizing them, you are putting yourself at a great advantage. I think one thing that you asked about too was how you can make your LinkedIn profile a selling tool. And there are some things that I would just like to emphasize when you're thinking about leveraging that social media platform to sell. I preach value first, selling second. Give away information of value to people before you try to sell them. So, what that would mean is building out your LinkedIn profile page, offering thought leadership or education. So, let's just say you own a tire shop. Post a quick article or a blurb about three ways that you can avoid uneven wear on your tires.
It's helpful information, it doesn't take long to create, and it's relevant to your business. So, using keywords throughout is also going to help, so take advantage of that. And then, leveraging a features section which gives you another opportunity to showcase testimonials from past clients or customers, videos, and so on. And then, engaging. And I know I've brought that up a few times, but it really can make the difference if you engage with the people who are reading or viewing your content is keeping that in mind. And then, having some kind of call to action when you post, or even when you send a direct message to someone. You need to tell people what you want them to do after they've engaged with your content. If you want them to go to your website, say, "Go to my website for more information," or "If you'd like to learn about X, DM me." So those things are really important. Otherwise, our audience members don't know what they're supposed to do next with the information they've been given.
Michael Barnes:
Okay. Thank you so much for these super helpful tips on LinkedIn Organic. Can you just tell us, for people that would like to learn more about you and your company, where to find you?
Kate Pozeznik:
Certainly. I appreciate that. My web address is quirkpersonalbranding.com, and quirk is a quirky word. It's Q-U-I-R-K personalbranding.com. So yes, if you have questions, feel free to go on my website. You can also contact me via email, which is [email protected]. It's been a real pleasure.
Michael Barnes:
Great. Thank you, Kate. Absolutely. Thank you so much. We'll talk soon.
Kate Pozeznik:
Sounds great. Thanks.