Need content that converts?
Need prospects who engage with your written, video and/or audio media to take an action like responding to a CTA?
In other words, smash a button on your landing page, reply back to that sales email or hit subscribe on your podcast?
Outside of the dry (and boring) parameters of marketingspeak, what you really need when discussing content that converts is that you need …
HOT CONTENT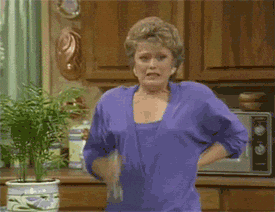 You need fetching and amorous content that gets hot and steamy with a prospect's twitchy finger.
Why You Should Care?
In this post, you'll learn how to raw dog a search engine with three easy digital tools, so Google et al. will serve you up prospects who can embrace all you have to offer digitally. Reach your content ideas, check off your content marketing goals and consummate a value proposition that cures your audience's aching pain point.
Is Pepé Le Pew Content That Converts?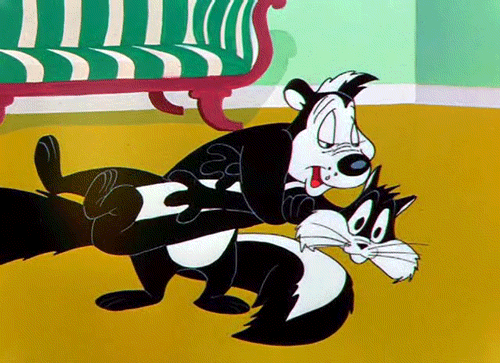 Let's change the arc here to non-problematic subject matter. Let's discuss engineering. Let's discuss digital tools you should be using to get content marketing that converts!
You are starting out or pivoting in your career in the drive to create content. You have heard or tried using fancy digital tools like Google Analytics or Semrush and, well, uh …
… things are way too complicated! You want to create content and improve your conversion rate, not nerd out as a pinch-hitting software engineer. You need effective and easy-to-use. Even better if it's free or doesn't cost a fortune.
Before we discuss three digital tools that an idiot or Dostoevsky could use, we would like to present the clickbait …
Content Marketing Case Study: How We Improved 40 Ranking Positions in 1 Week
Realtor John Garuti III wanted to target a new community called Verandah in Southwest Florida. He hired Content for Teeth for content marketing work in order to rank organically for keywords related to the community.
The Content with Teeth team improved a blog post titled Learn All About the Verandah Community in Fort Myers by 40 ranking positions for JG3 Homes in just ONE week.
Follow this step-by-step case study with us to find out how we hit that goal. Copy and paste the content strategy to ultimately boost conversions, increase engagement and, overall, boost your content marketing efforts.
Stupidly Easy Tool Content That Converts #1: Ubersuggest
How do you find things? You use certain words or phrases to indicate what you are looking for. In onlandia, these are called keywords. Finding the right keywords can help people find your content. Ubersuggest is a keyword research tool that isn't overly complicated and overpriced. Here's how to use it.
Step #1
Neophyte content marketers, head to Ubersuggest and find the Keyword tab from the panel on your left. Insert the keyword into the "Get a detailed keyword overview" box and hit SEARCH.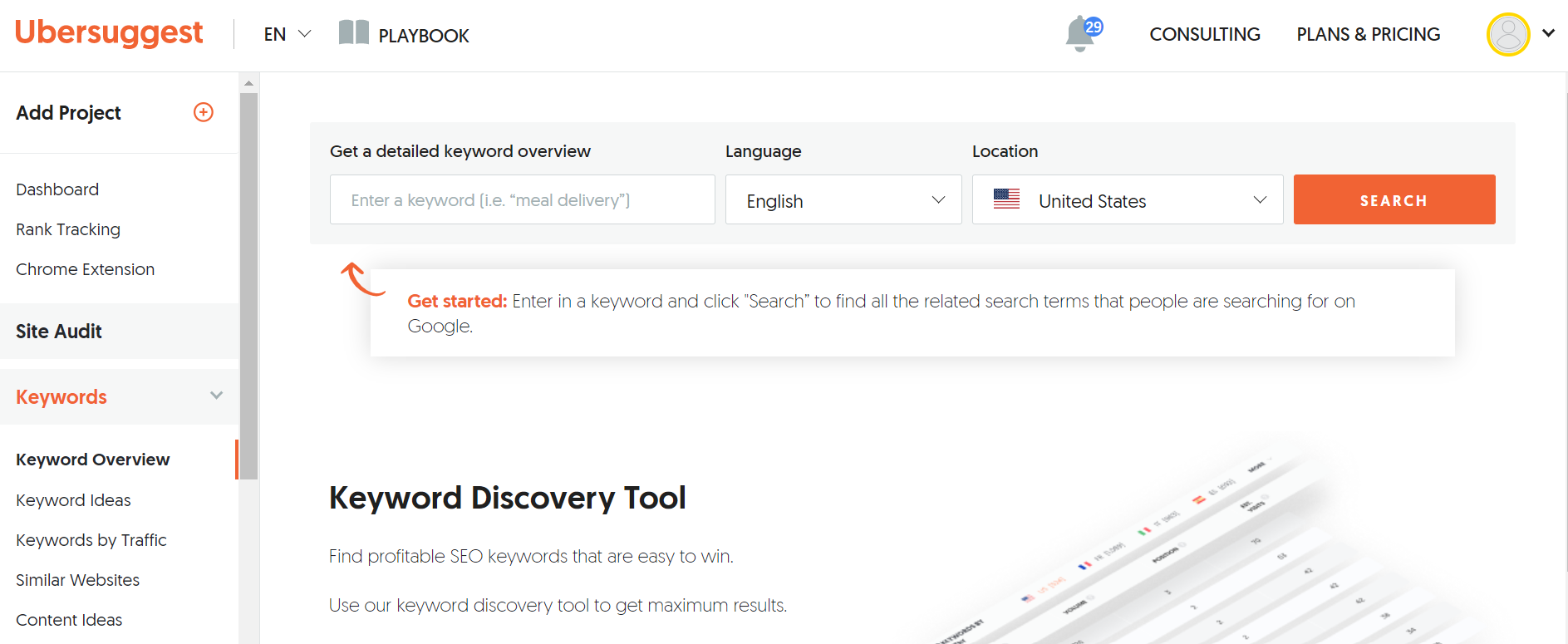 Step #2
Check the search volume, SEO difficulty, and CPC (cost per click of your keyword).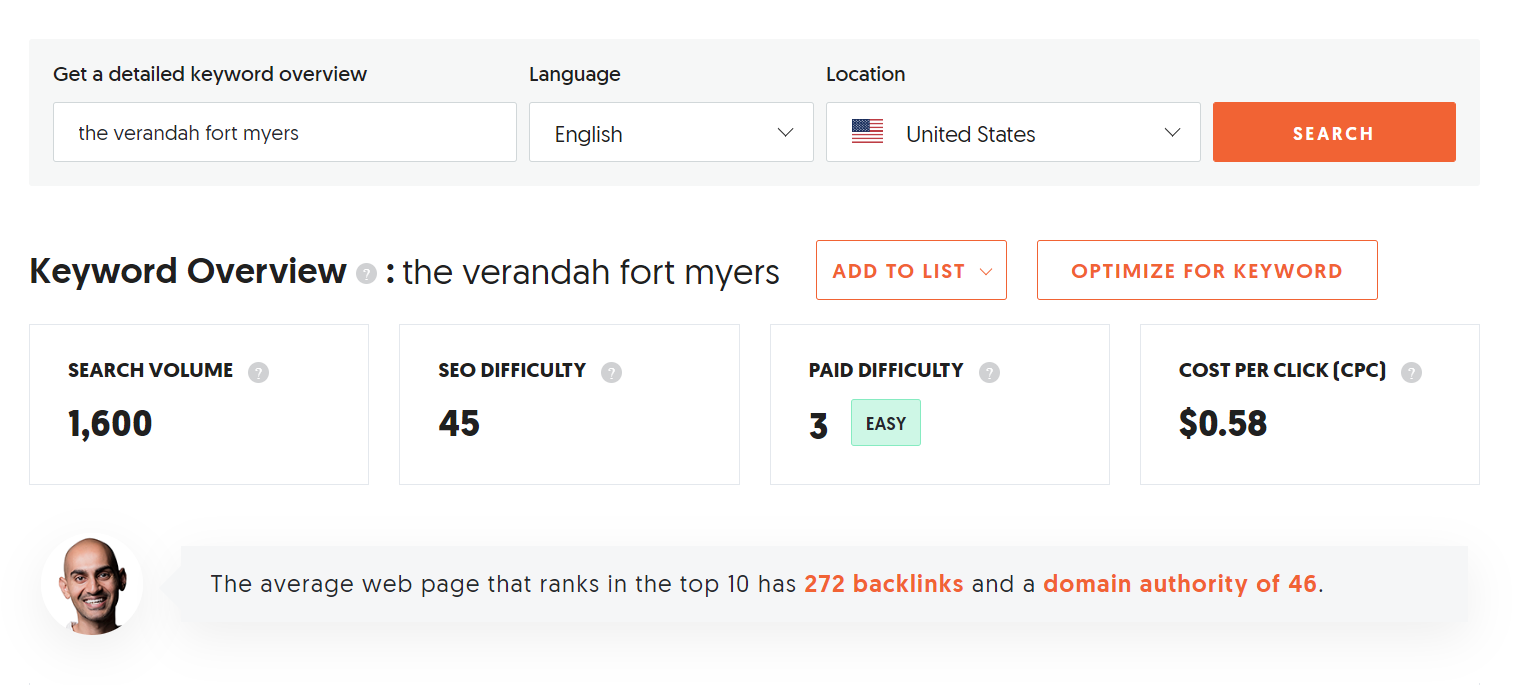 Step #3
Scroll down to examine other keyword ideas.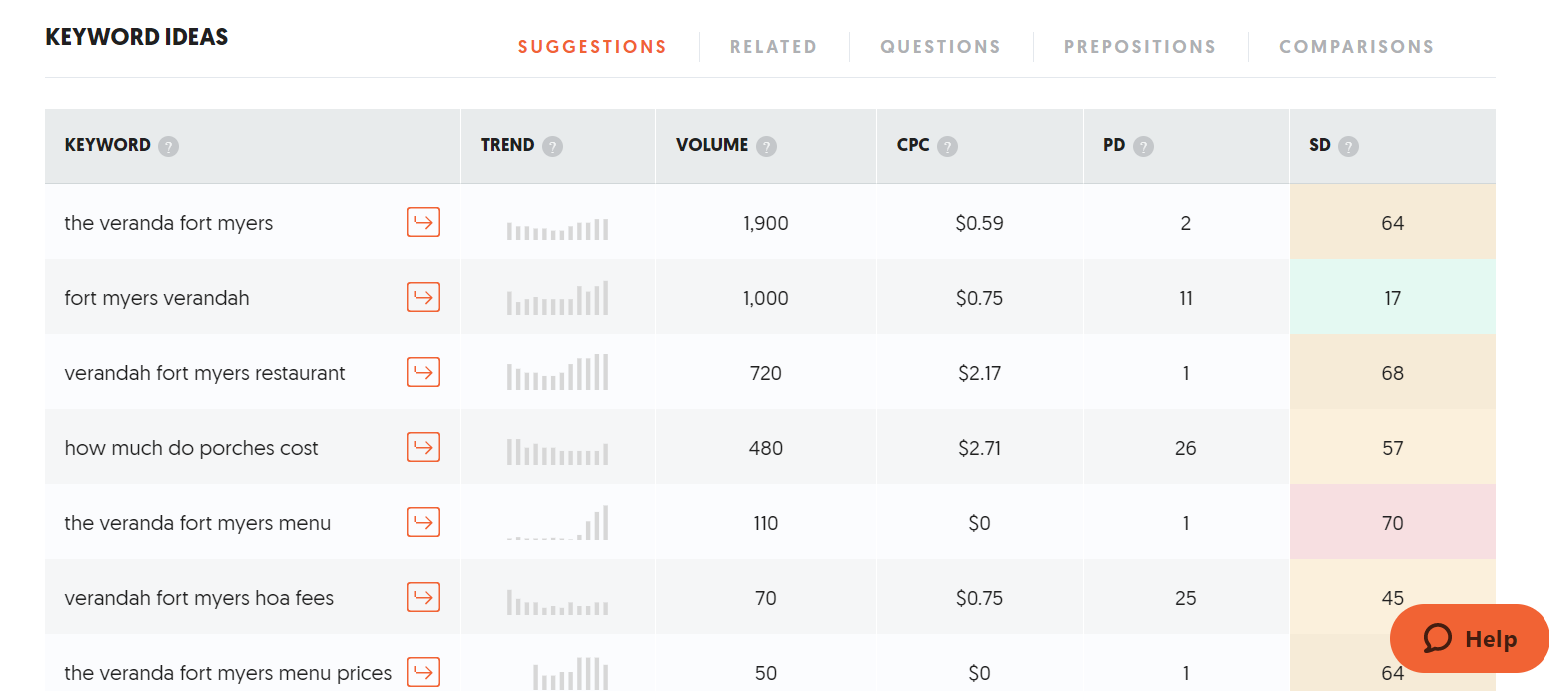 Step #4
We chose "the verandah fort Myers". At first, we'll look at the "SUGGESTIONS" tab.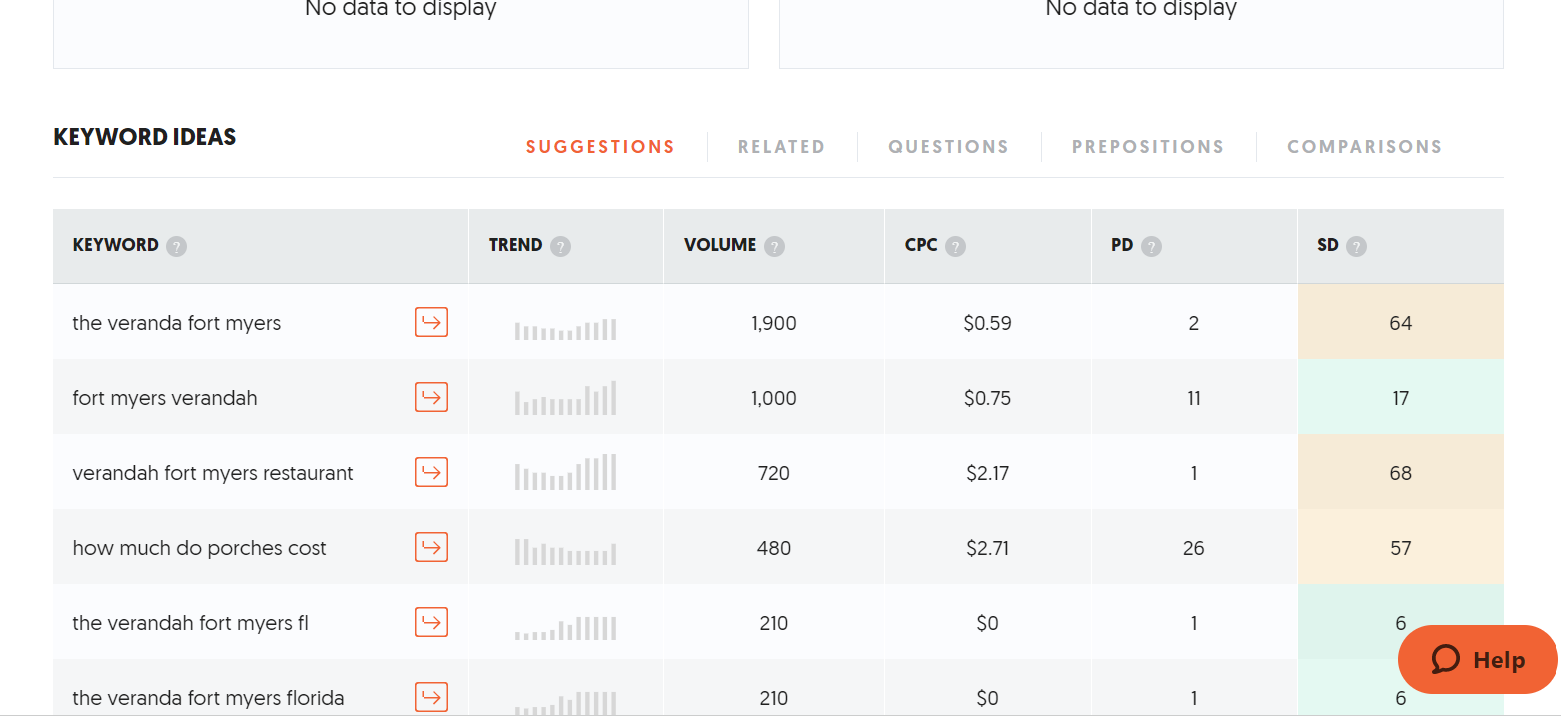 Next, valient content marketers should click on the orange arrow next to your chosen keyword.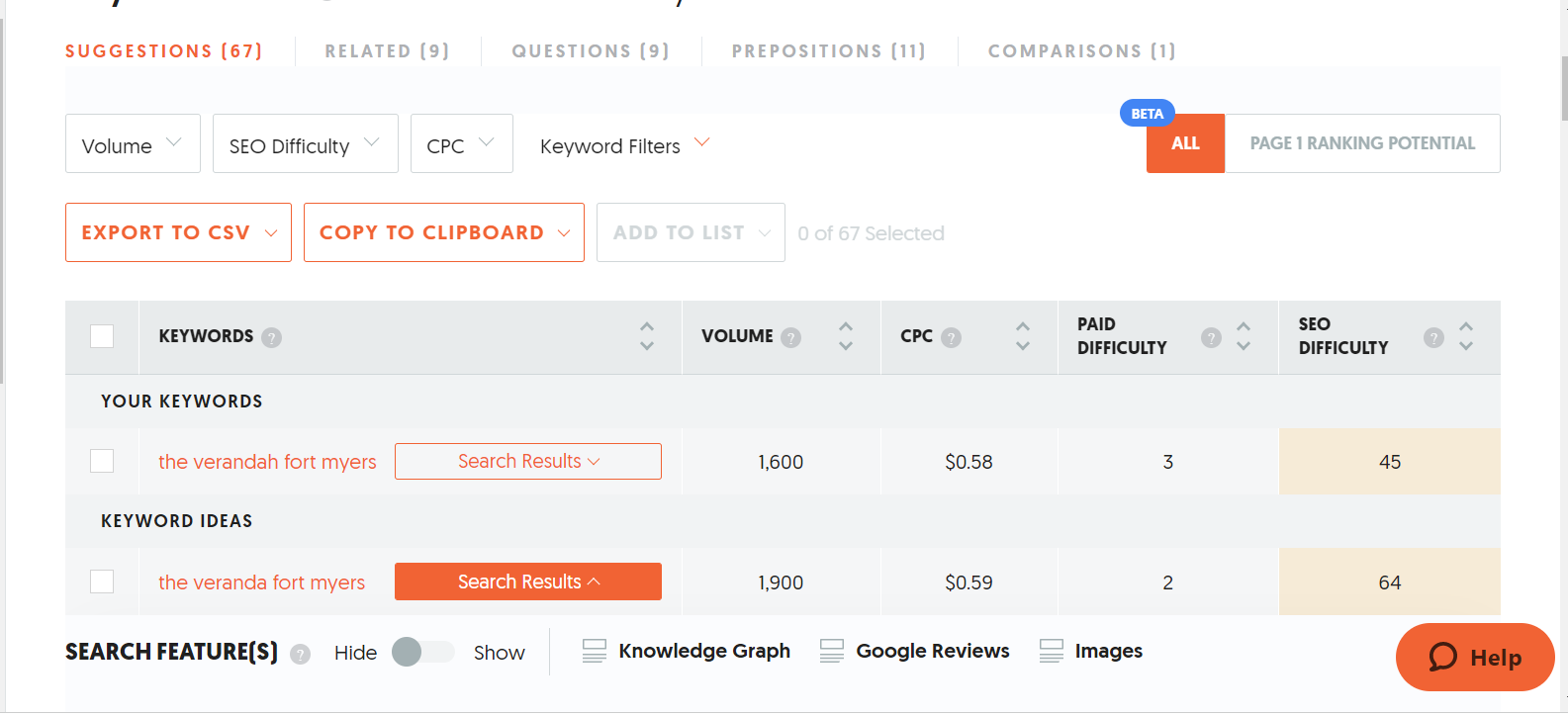 Click on "Search Results".
Scroll down to see the websites that rank top for your keyword. You can see how many backlinks they have, the paid difficulty and the SEO difficulty.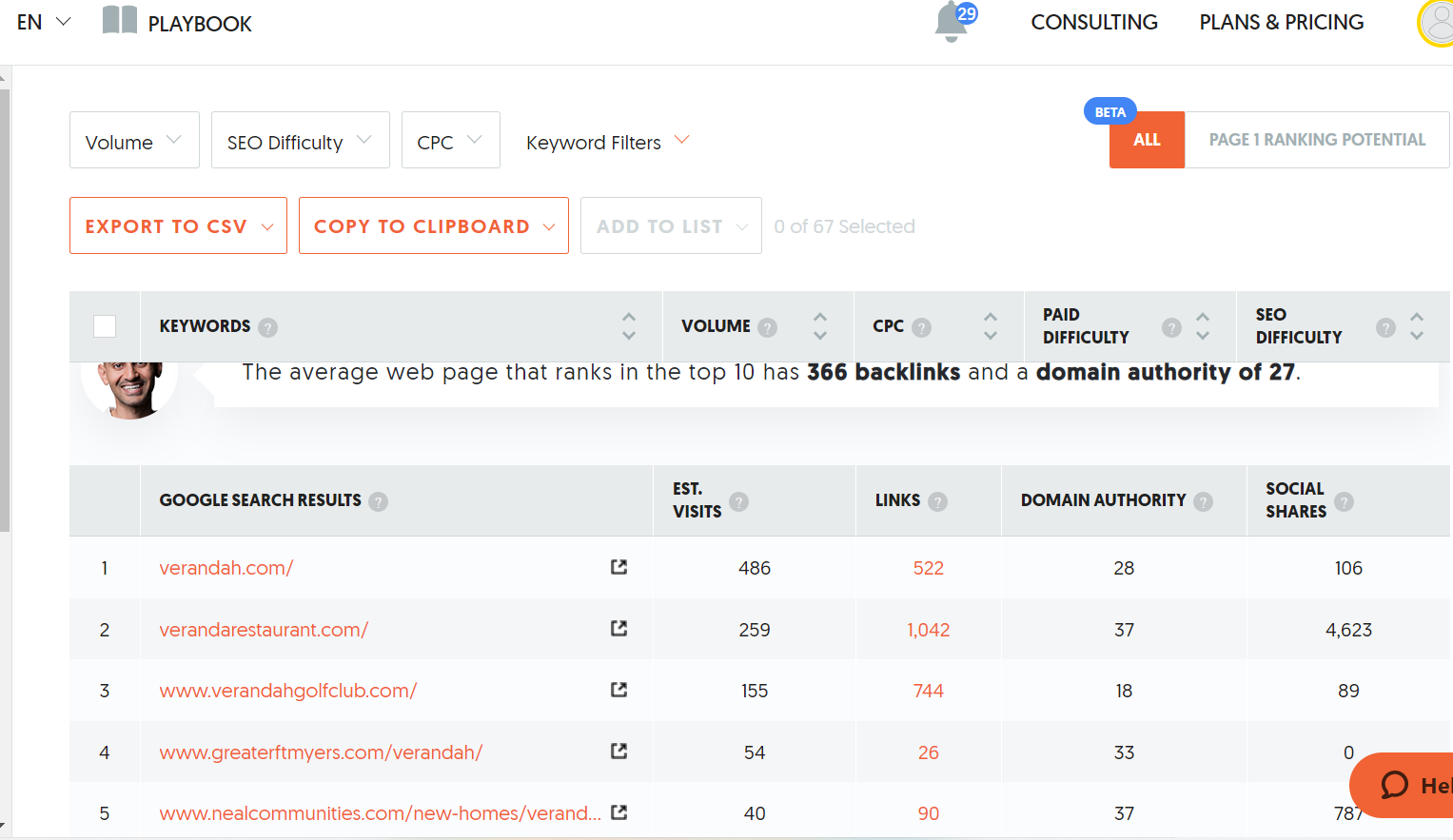 In this case, examine the blog content of your competitors that you want to rank against.
If you move to the "RELATED" tab, you can see similar results for keywords that are related to the one you chose.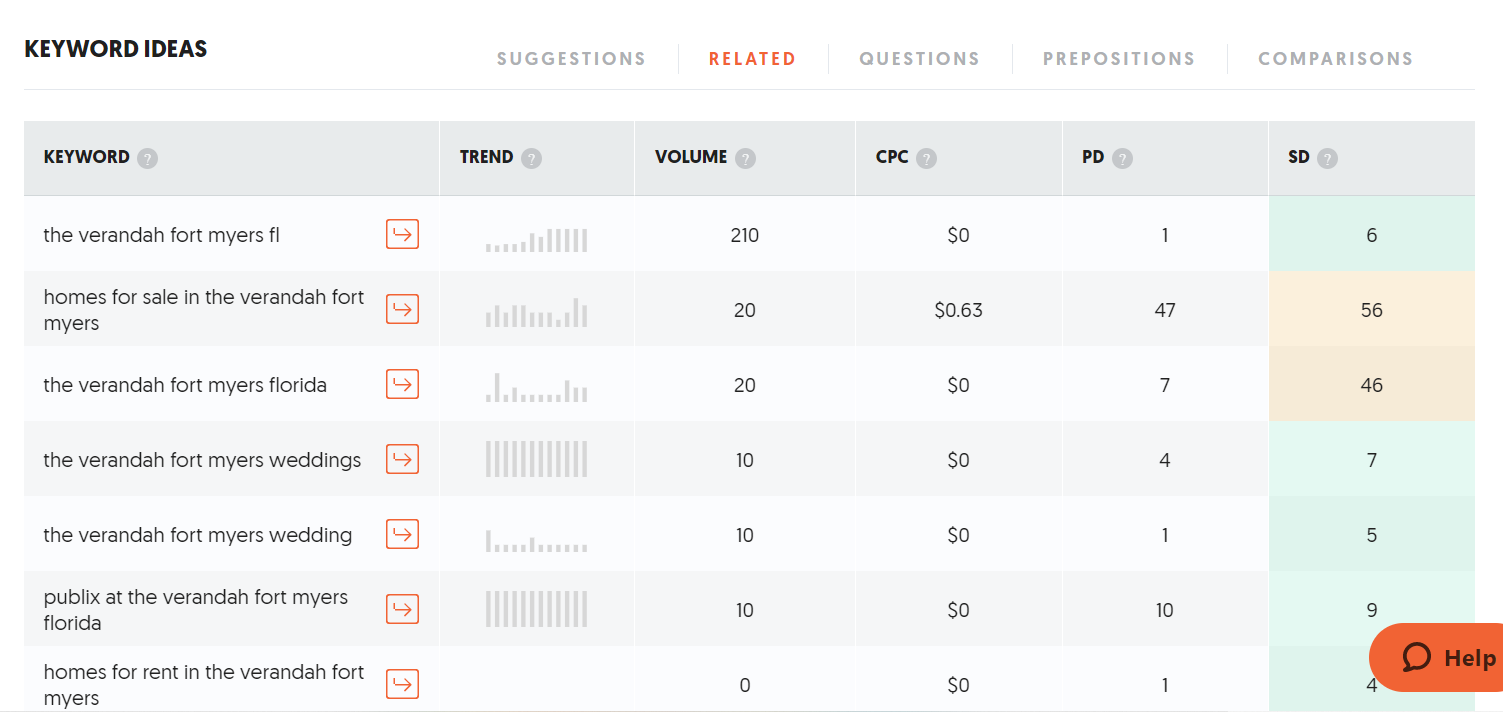 Under the "QUESTIONS" tab you can notice the questions that are being asked around that keyword.
Investigate different keywords and choose the keyword that matches the level of difficulty you can handle when creating content.
Regarding cost, Ubersuggest is great because it is useful and not overpriced. You can find a subscription level to match your budget or pay a one-time lifetime access cost to jettison annoying monthly charges.
Stupidly Easy Tool for Content That Converts #2: Surfer SEO
When creating content, Surfer SEO is a tool where you can optimize your content and get it to rank faster. Let's take a look at how it works.
Step #1
Head to Surfer SEO and log into your account. Under tools, click on "Create" next to Content Editor.

Step #2
Whether it's a blog post, landing pages or a web page, write down your title and keyword that you got from Ubersuggest. Next, examine the tools that you have.
On the panel to your right, you will see 3 different tabs:
GUIDELINES: Shows content score (and details), content structure (number of words, headings, paragraphs, images), and terms you need to be using.
OUTLINE: Contains the Outline Builder (Surfer AI-generated Titles (H1), Headings (H2), and Subheadings (H3-H6)) and Topics & Questions section.
BRIEF: Contains Notes and links to Competitors.
Step #3
Hit the gear icon on the top left of the right panel to start customizing.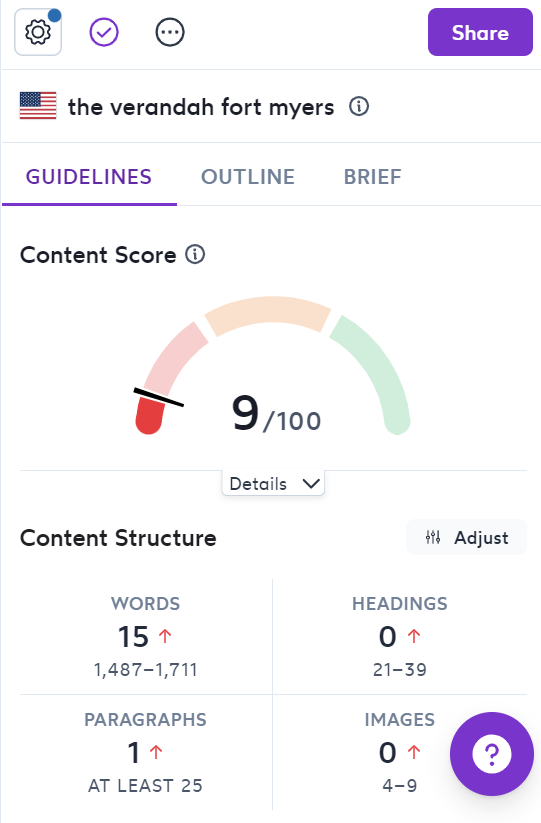 Now, you need to examine the top 10 competitor links and turn on the link that has a high content score and domain authority with a reasonable number of words that you are willing to write.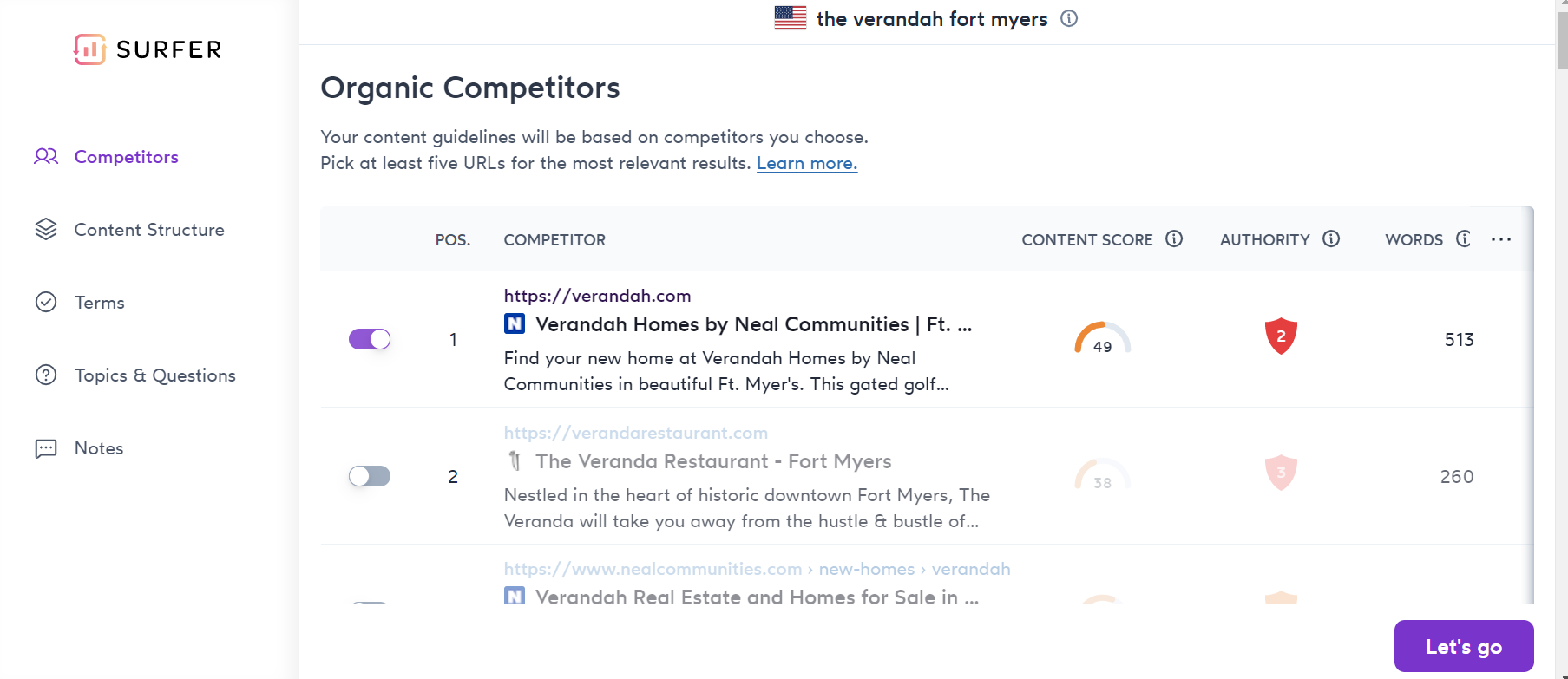 Little hint 1: Make sure the form of content you are creating and ranking against are compatible. In other words, if you are writing a blog post, you want to turn on blog posts too instead of web pages. Similarly, if you are creating a sales page, you need to avoid trying to rank against a blog post and choose web pages instead.
Little hint 2: You want to avoid ranking against industry behemoths such as Zillow and Airbnb, in our case. Remember to always make your goals attainable, this is not to say that you cannot surpass their ranking one day!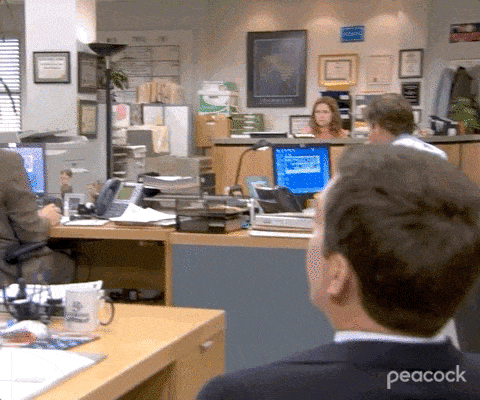 In our case study, we have chosen to proceed with ranks 1, 7, and 10 and clicked "Let's go".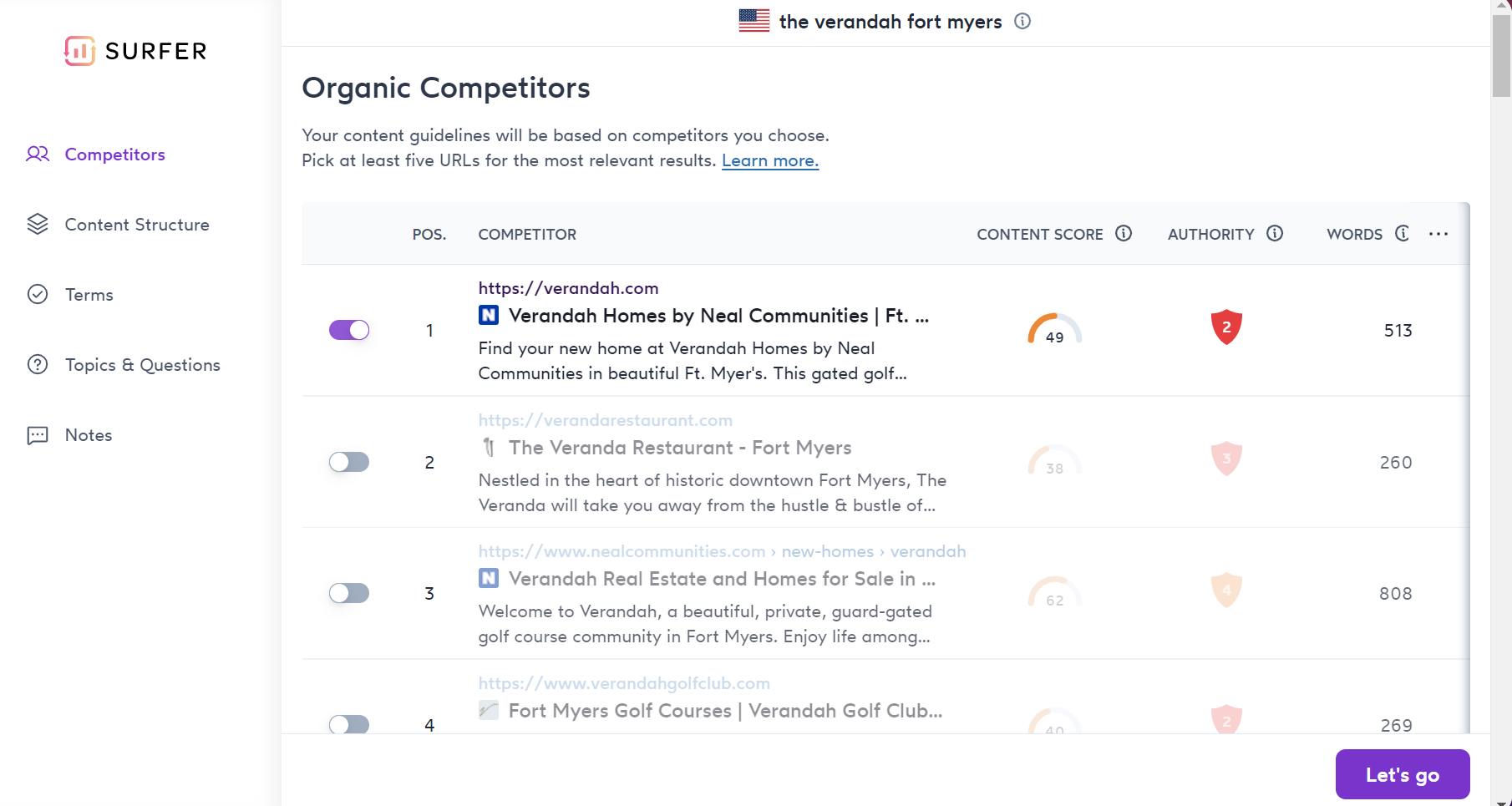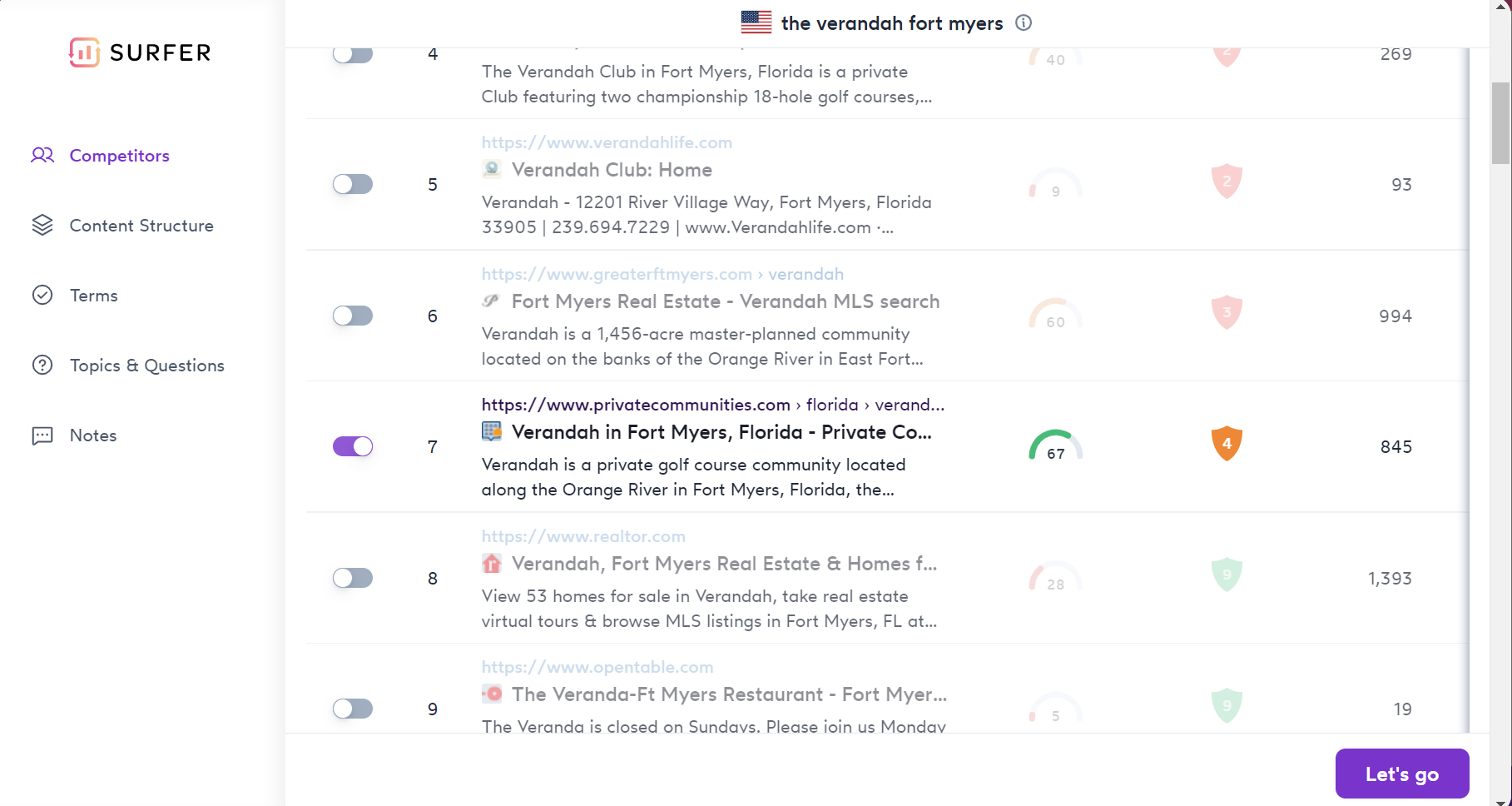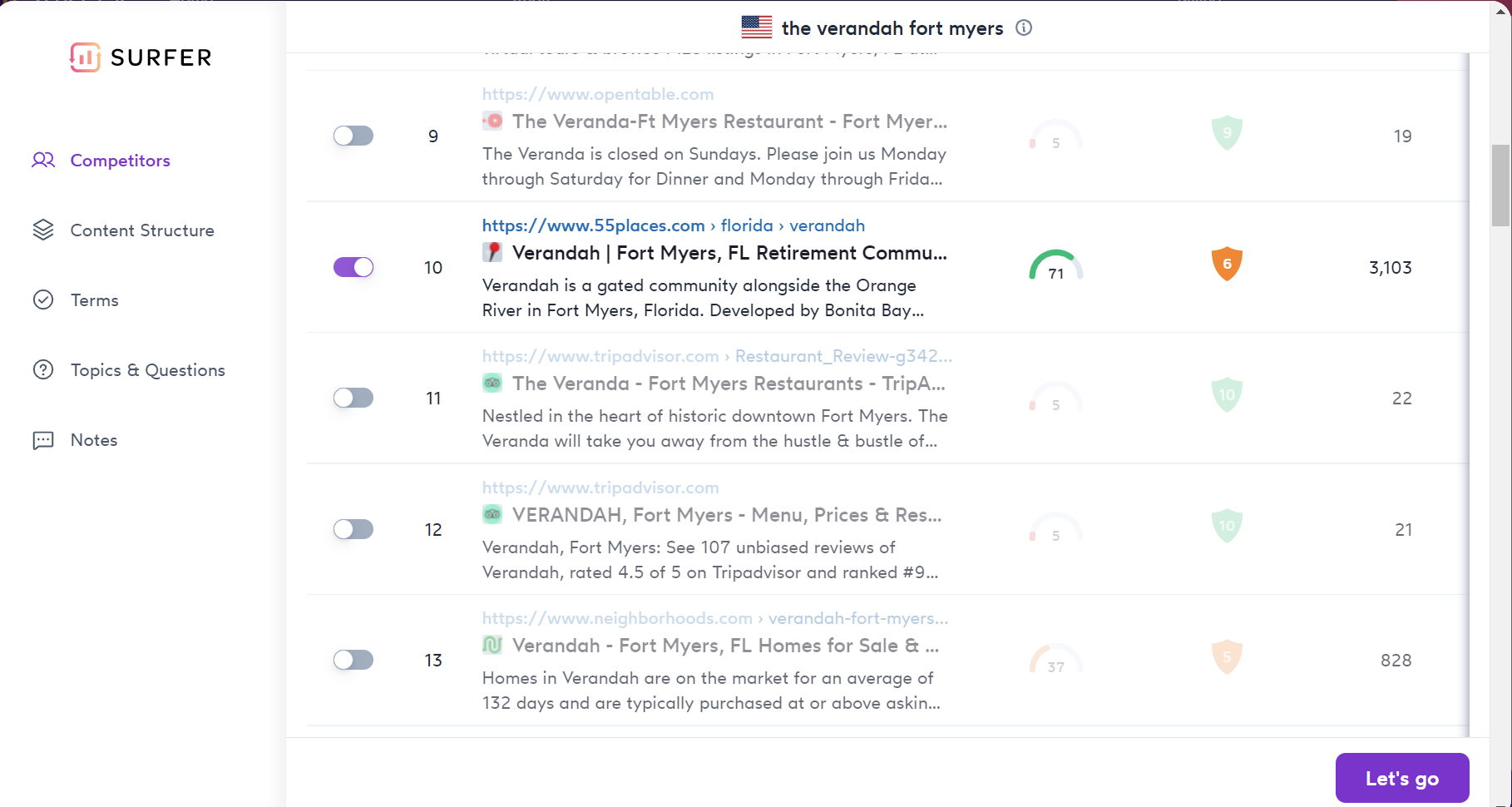 Step #4
According to your selection of competitor sites, Surfer SEO will reveal the content guidelines or the ideal range of words, headings, paragraphs and images you need to target in order to compete against and even surpass the rank of competitor sites.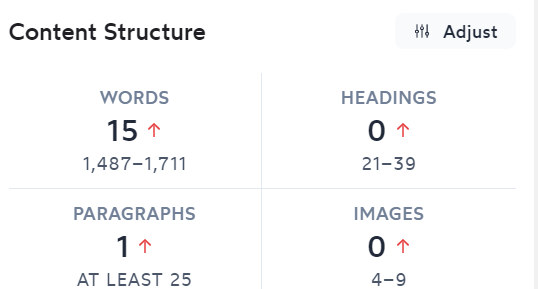 Step #5
You initially did keyword rsearch in Ubersuggest. Now check out the keywords (and their corresponding frequency) in the right panel under "Terms". Make sure to include them when writing content and to respect the suggested range.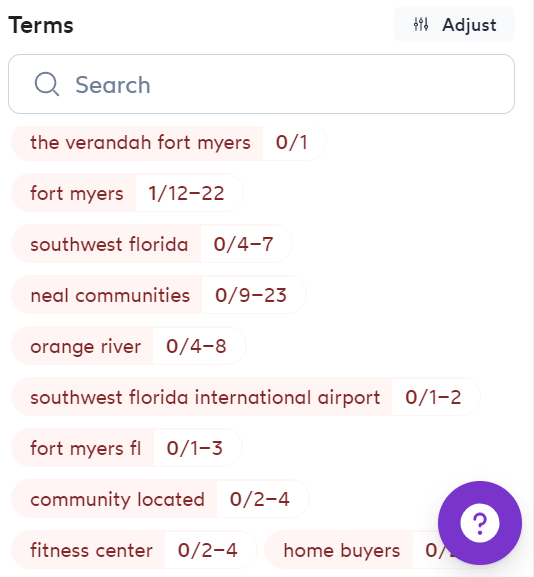 Surfer SEO also presents some headline suggestions in "Topic & Questions" in that "HEADINGS" tab that can improve your content score.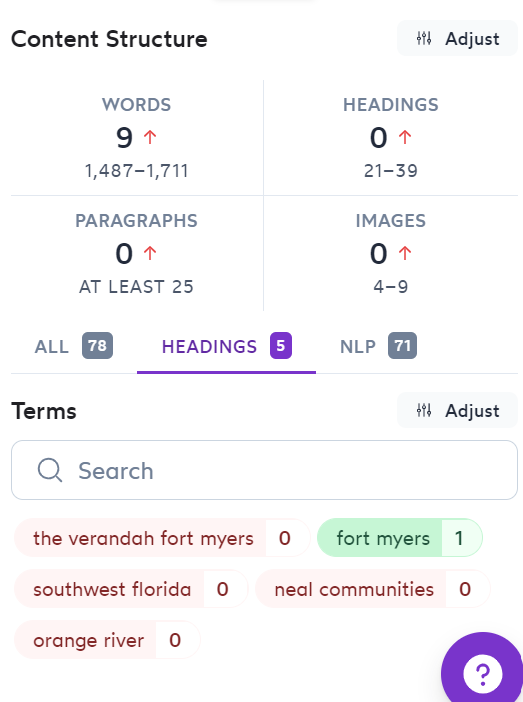 Step #6
Make use of  the"OUTLINE" tab to generate ideas and to make sure you talk about topics that will significantly improve your content score. This tab makes writing content less of a burden. Remember to not copy-paste content, but to recreate it by adding your own unique touch.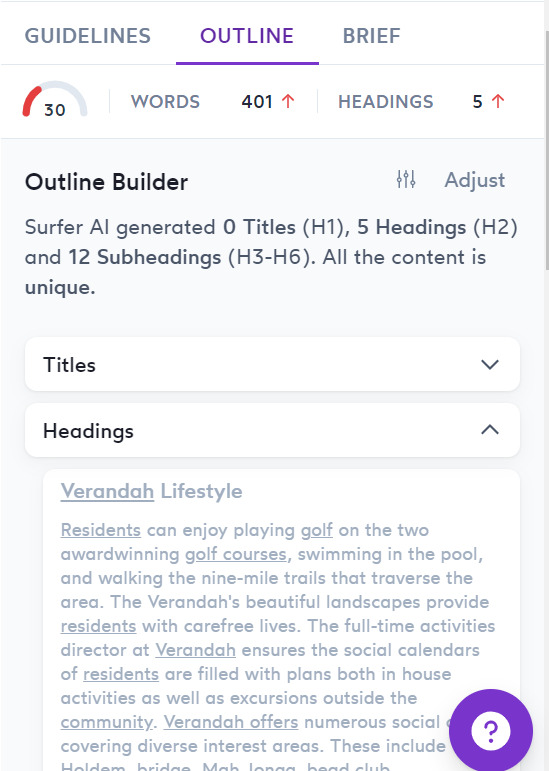 Step #7
Check out what your competitors are all about in the "BRIEF" tab under "Competitors".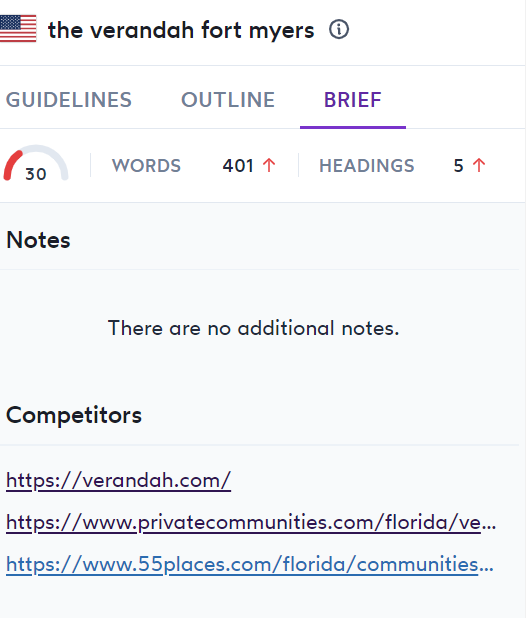 That's it! You now have a "blueprint" to seduce Google.
Actionable Tricks
Aim for a minimum content score of 65.
Always start by writing content as a draft. Afterward, start adding/replacing with the keywords.
Try to hit the target number of the top half of the keywords in the NLP section. You can also include the lower half of the keywords, but that won't increase your score as much. Steer clear of keyword stuffing as Google seriously penalizes websites that do so.
Keep your goals S.M.A.R.T: Specific, Measurable, Achievable, Relevant, and Time-bound.
Stupidly Easy Tool for Content That Converts#3: Tweak Your Headline With Biz Title Generator
A great deal of effort spent creating content should be dedicated to crafting your headline. According to research cited by Neil Patel, 80% of the people who come across your post will never read beyond the headline. Only 20% will read the thing.
Why Should You Care?
Your headlines are responsible for your traffic. If your headlines suck, so will your traffic. If it summarizes everything the user is wishing to see right away, you won the battle. No one wants to waste their most valuable asset: their time. If your headline is worth it, they'll go for it. Remember, it doesn't end at the headline. Attractive headlines bring guests to your door. You have to make sure the welcome is warm afterward for them to stay and spend time in your digital home.
Step #1
Head to Tweak Your Biz.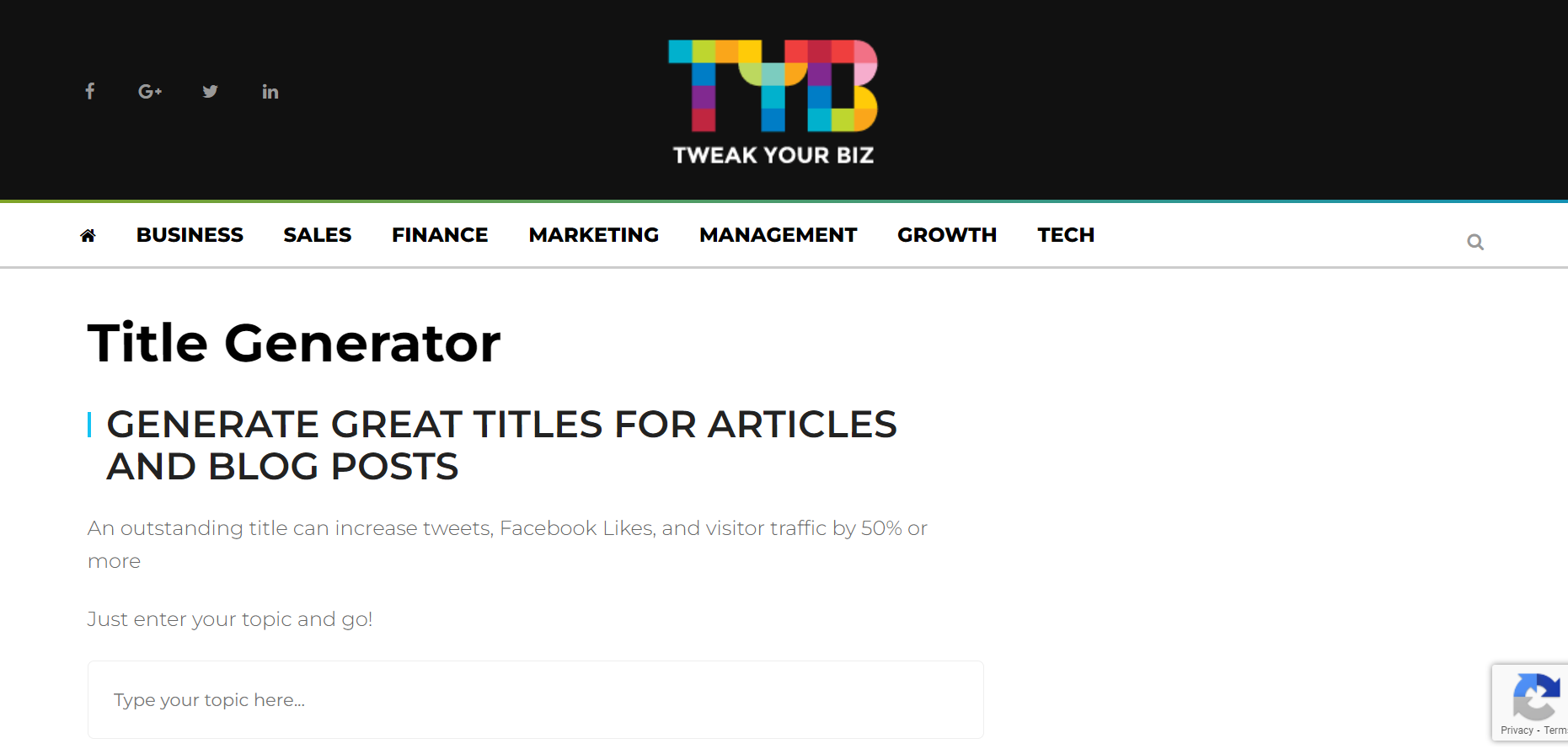 Step #2
Type your topic in the box and pick whether it is a noun or a verb. Click SUBMIT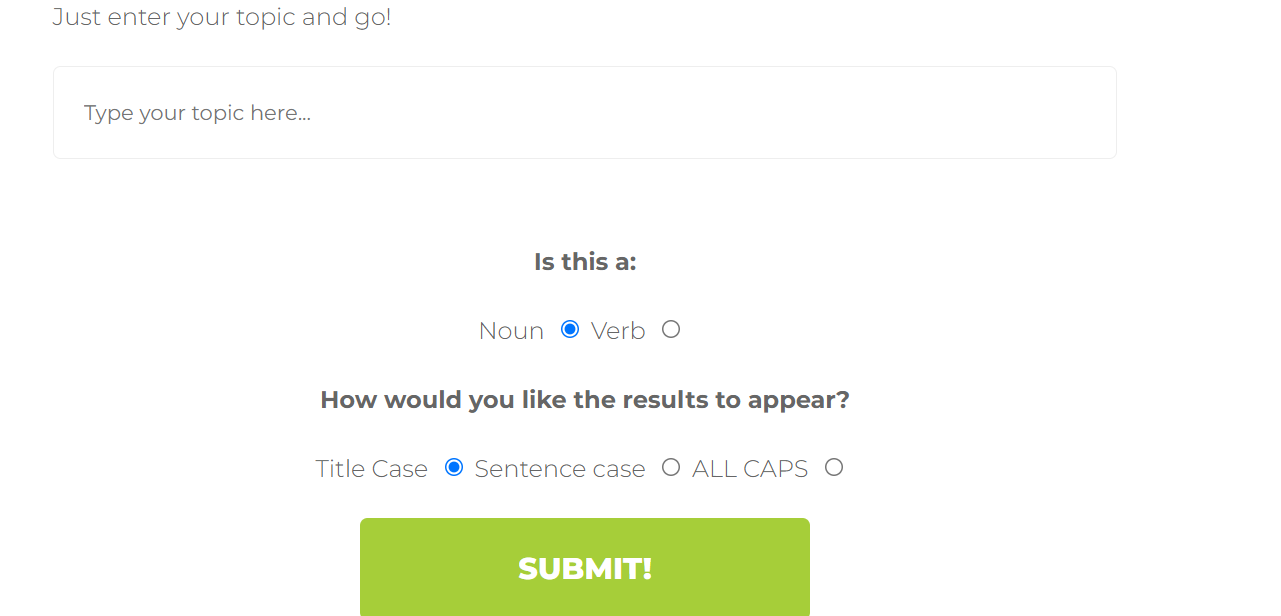 Step #3
Go over the results. They are categorized into Lists, Best, How To, Questions etc…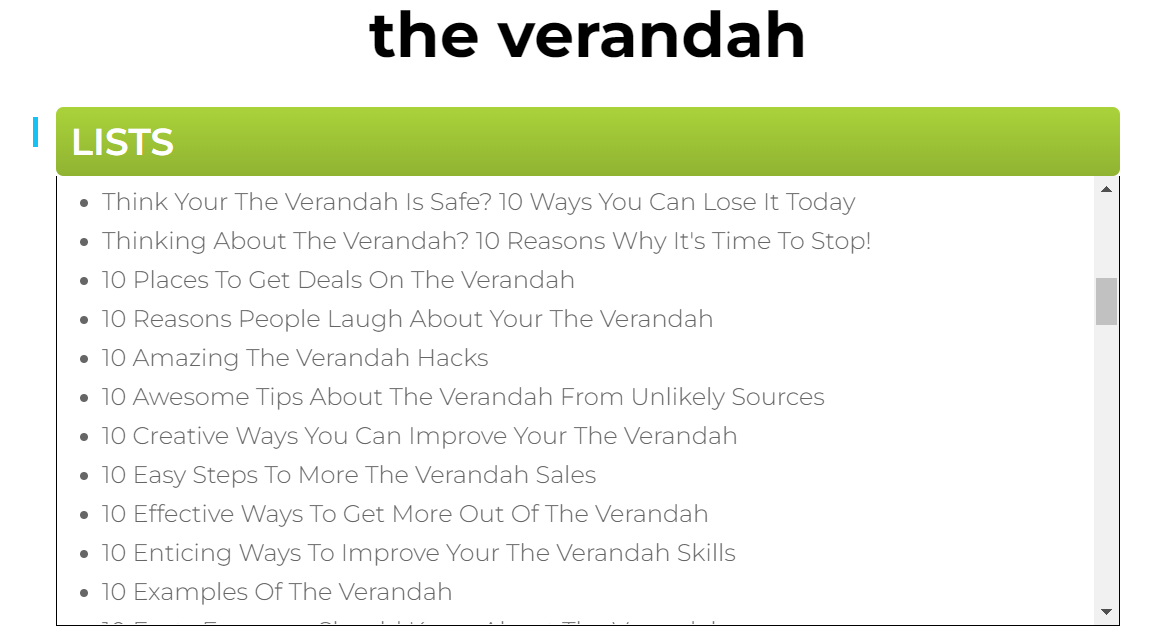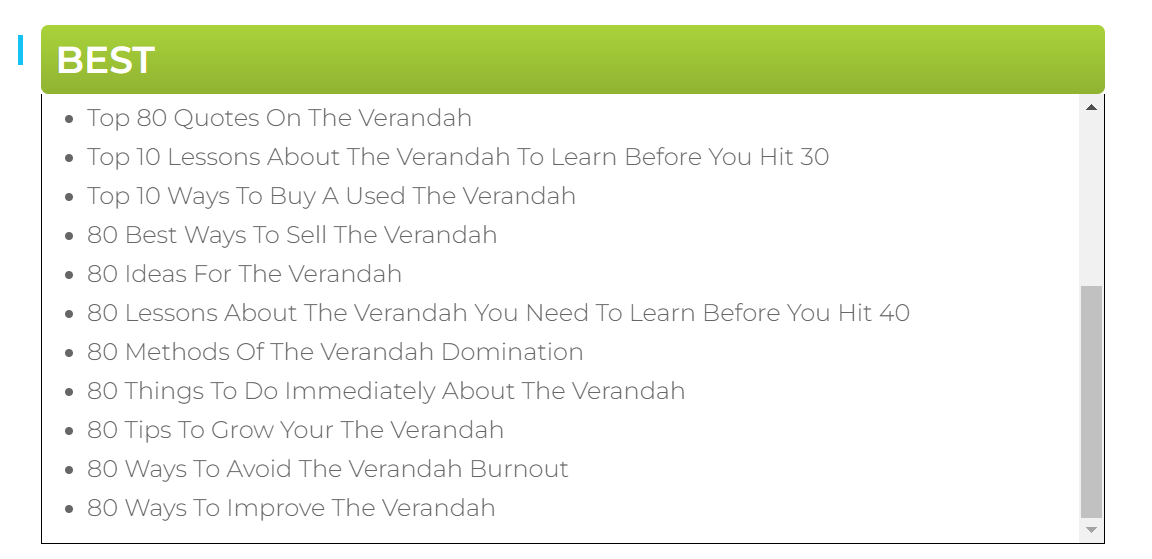 Pick one that is most relevant to your content and tweak it. Make sure to not lose your authenticity by copy-pasting the title as is. Now you can proceed to create content that ties back to your attention-grabbing headline.
Headlining 101: The 3C's
Clarity: Make sure the reader can understand all that your content is about by just reading the few words in the headline.
Conciseness: Remember that there is a character length for headlines for different forms of copies (an email, a blog post, a landing page, etc…). Make sure you don't exceed that length as you risk cutting off your headline.
Credibility: You can sugarcoat your headline to make it as clickable as possible, but it is never okay to swindle people into clicking your headline. Avoid clickbaity titles like: "How to Gain 90000 Followers in 1 Hour" or the even more cringey "3 Stupidly Easy Tools to Create Content that Converts".
BONUS: Tool #4: Yoast SEO Plugin
We're not done! We have another low-cost and totally useful digital tool.
What is the Yoast SEO Plugin All About? How Is That Relevant to My Content Marketing?
We have previously mentioned how the headline can make or break your work.
The Yoast SEO plugin ensures your headline is optimal and that the character count is well in the required range.
You can start with a basic version of Yoast SEO for free! Now that you are done creating content, it's time to optimize. Scroll down your draft where your plugin resides.
Just insert the keyphrase you formulated in Ubersuggest into the focus keyphrase box as shown below.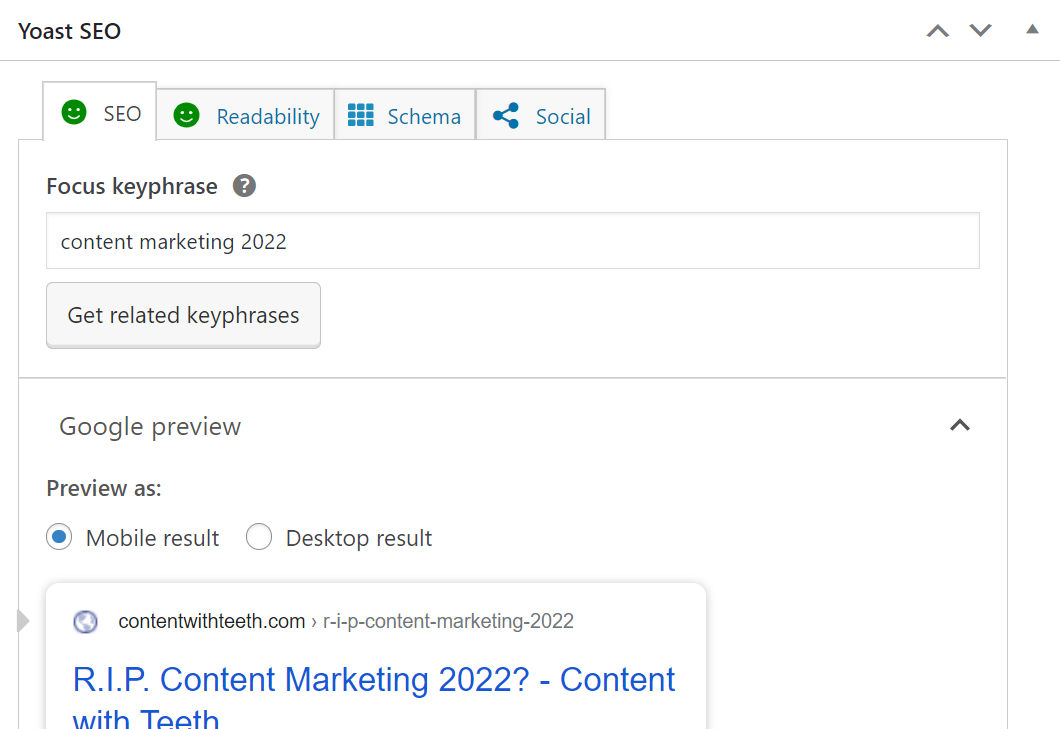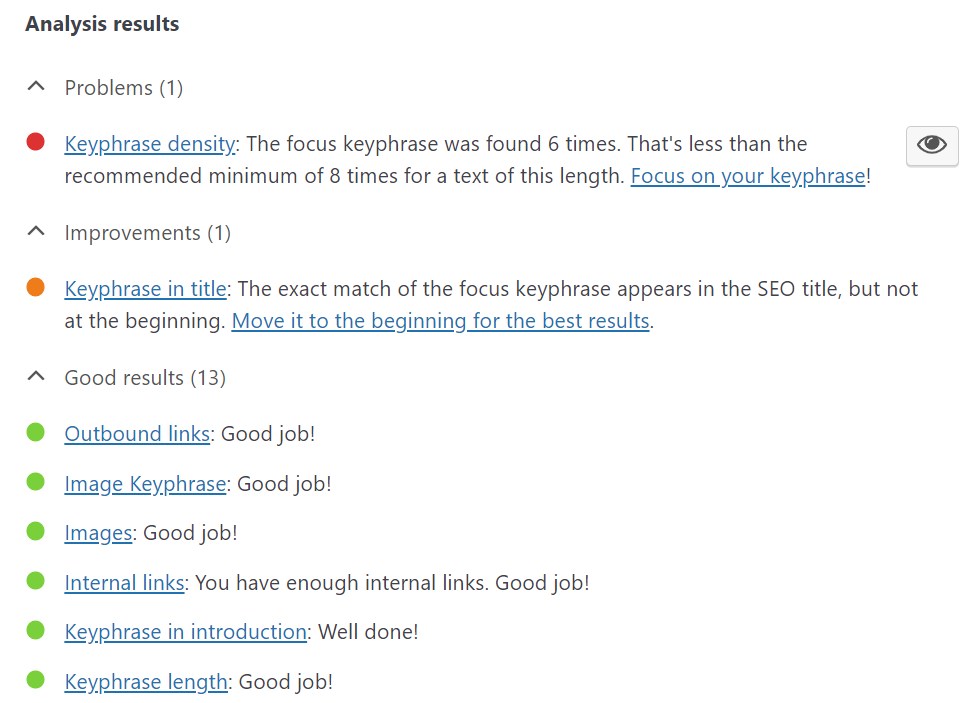 If you are creating content, this plugin offers you a range of different suggestions to make your page rank better. However, in this blog post we'll focus on the headline improvement function. Yoast tells you whether:
You have the exact match of the focus keyphrase that appears in the SEO title.
Your focus keyphrase is at the beginning of your SEO title.
SEO title width is optimal.
Ok… But Umm …?
You've read this far and I sense a disturbance in the force …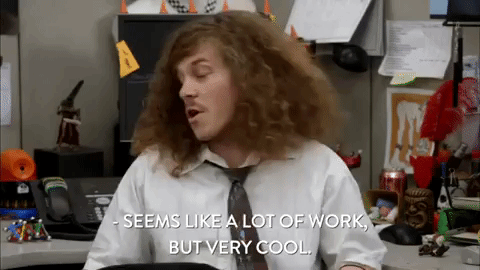 If you want attention-grabbing headlines and a shot at higher conversions and generating leads with your target audience, BUT you don't want to cook AND do the dishes …
Find Someone Else to Do It
We at Content with Teeth create content and have oodles of experience as an agency specializing in copywriting and video production. Let us get your content marketing strategy over the goal line.
Call us at +1(888) 552-9235 or schedule a free consultation to get content that converts and gets down and dirty with Google.