The Venn diagram above shows the intersection of three characters from three classic movies centered on writers. Jack Torrance from The Shining can't get past the blank page and an axe gets put through a door among other things. Barton Fink faces the blank page and ends up waking up to a bloody corpse in bed. Paul Sheldon from Misery meets his ultimate creepy superfan. 
These three movies about writers all intersect in REDRUM. The message is clear. Writing is horror … WRITING IS MURDER!
If you are a SMB (small and mid-sized business), you know writing, specifically blogging, is an effective way to shill your product or service online.
Perhaps you have no phony angst about writing, just don't have time for it or even dislike it and want to focus your energy on some other aspect of your business. Whatever your deal is, this post is a guide on how to do it yourself quickly and cheaply without mayhem and horror.
What is Blogging and Why Do You Need It?
The consultants, coaches and other assorted court jesters of the professional class tell you to pivot to video, carpet bomb social media, get nice with an influencer or buy a ton of expensive podcasting equipment that will collect dust in your office.
Is blogging even relevant? What is it exactly?
Simply put, blogging is the act of putting text, photographs, and other media on a self-published website. The act of publishing a personal blog post began as a way for individuals to update their audience on their daily lives using their free blogging sites with a free domain. However, business potential is what has taken blogging to greater heights via the self-hosted WordPress blog.
 Blogging has evolved from simply putting up text with photographs, to using those media to promote brands or act as support for businesses and services. The growth has seen blogging become a part of content marketing.
INSERT AD BLOCKER HERE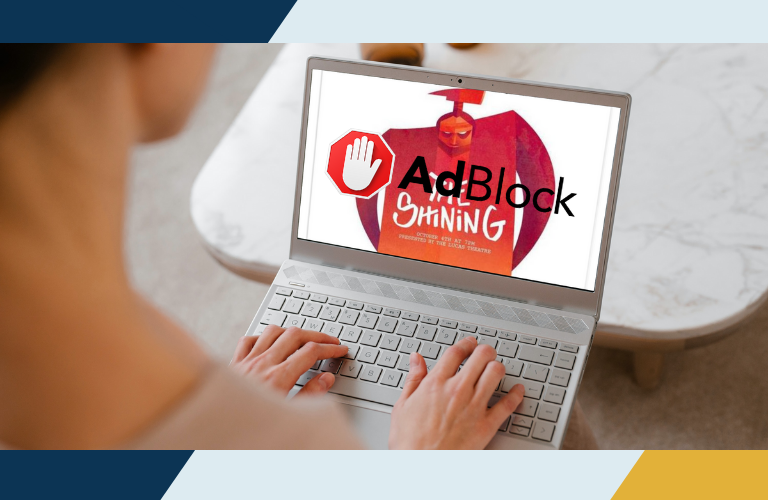 Your own personal brand or business will absolutely benefit from having its own blog to enhance its digital marketing strategy as a whole. It is always advisable to use online ads to get to customers. However, the number of people using ad blockers has risen steadily over the years. It is now estimated that 42% of internet users block ads.
 When you think about it, ads cost a pretty penny, and the campaign will come to an end. That is the compelling reason to start a blog. In the long term, content marketing will be cheaper in comparison to ads.  This is especially true for evergreen content that will see users flocking to your website in search of answers and solutions.
 How To Blog Without Killing Someone (Or Yourself)     
Well, you've made up your mind to start a blog. That means you have to get web hosting and a custom domain on a blogging platform known as a content management system. You can start with free blogging platforms that have free hosting to get a feel of what it takes to run a successful blog.
 The best way for you to start blogging on your own blogs is to install WordPress. Start with a free blog, and many WordPress hosting companies will automatically install WordPress and even hook you up with your own domain to use on your free WordPress site. 
 From here, you can use the free themes or a website builder to design a beautiful blog site, whether it is a news blog, a fashion blog, or a personal brand. You don't need to be an expert in web design to start your blogging journey. With a good WordPress theme, just publish content consistently and engage positively with other bloggers.
 The blogging community of your chosen niche, whether food blogs, travel or sports, can become a valuable asset. They can refer you to great blog hosts and offer great insights into your editorial calendar.
 When you start blogging, you can make money online by selling ad space on your blog. By far the most popular ad service is Google AdSense. These ad services work best on news blogs such as The Wall Street Journal, since they tend to have more traffic, but you can still sell advertising space on a niche blog.
 Before you develop your first blog post, consider this; whenever you are checking something on your favorite search engine, you will simply put in your query, and the search engine will do its best to give you results that match it. Why does that happen?
Research Keywords So People Will Find Your Posts
Keywords are the terms or phrases that people use when doing a search. If you want your content to be easily found, you will need to use keywords that relate to your content. Before you sit down to write, you should do some keyword research.
Traditional keyword tools can be quite costly. Luckily, there are affordable alternatives. One such alternative is Neil Patel's Ubersuggest. The best part is, Ubersuggest can show you the exact keywords you can use to rank quickly on search engine results pages.
 Visit Ubersuggest and type in the keyword that you want to research.  You will then get a report that lists a number of useful metrics. However, what's important is the Keyword Ideas button on the left-hand navigation panel.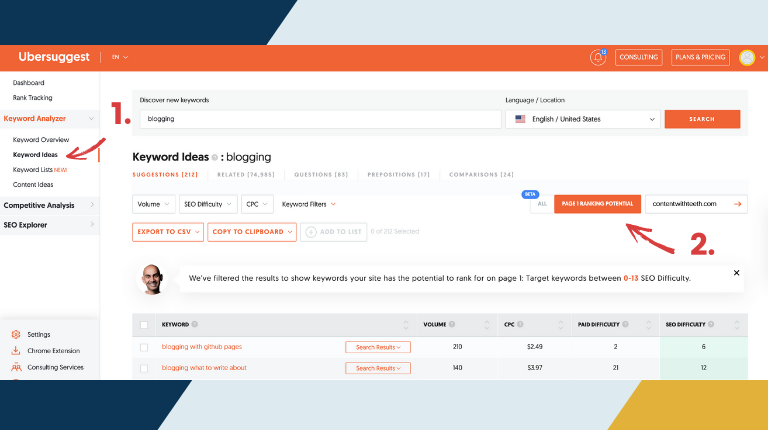 On the new page, just above the table, there is a Page 1 Ranking Potential button. Click that and enter your website's domain. Ubersuggest will analyze your website and suggest to you the keywords you can use to easily get on page 1 of the SERPs (Search Engine Results Pages).
Brainstorm by Talking Into a Transcription App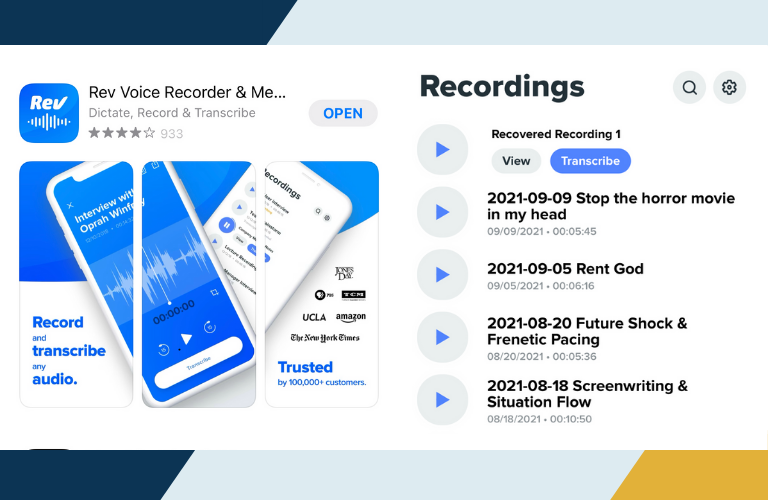 Once you have your keyword suggestions, it's time to put your brain into search mode. This means coming up with creative content ideas to write about, and potential headings to use.
People get ideas in different ways. It can be while walking your dog, waiting in the drive through line or playing MINECRAFT. Brainstorming is a process that needs you to let go of your internal critic/editor and just fire whatever comes into your mind unfiltered.
You can use the REV app to dictate your babble. When it's time to get down to business, you can then transcribe the formless ideas and get an outline or "angle" to turn your ravings into a blog post.
Structure the Brain Fart
Once you have the transcription, it's time to attempt to give it a structure. For this, it would be best to get rid of all distractions. Feed the cat or dog and let the kids out to play. Schedule your spouse/lover for an appointment at the DMV, so they will be gone for hours.
Transcription in hand, structure your idea and then do a vomit draft.
"I like to have order. I like to know what my scene list is and have my tent posts that I want to try and hit. Then I do a vomit draft."

8 Big Takeaways from BLACK PANTHER Screenwriter Joe Robert Cole: https://t.co/hoQ1jVQwvf via @ShaneeEdwards#screenwriting #writing pic.twitter.com/TJUF8POirV

— ScreenCraft (@screencrafting) February 2, 2019
Don't be squeamish or offended by the vulgarity.
The purpose of the "vomit draft" is to release the words or copy for the post as quickly as possible WITH ZERO EDITING. The idea here is not to be perfect or try to reword your lines or ape being a prestige author like Hemingway or Virginia Woolf. The point of the vomit draft is to get to the end of the damn post as quickly as possible. If you can't think of a word, do not THINK or look something up. Insert an "x" or "—" and come back later when rewriting your formless vomit draft into a masterpiece.
Writing Is Rewriting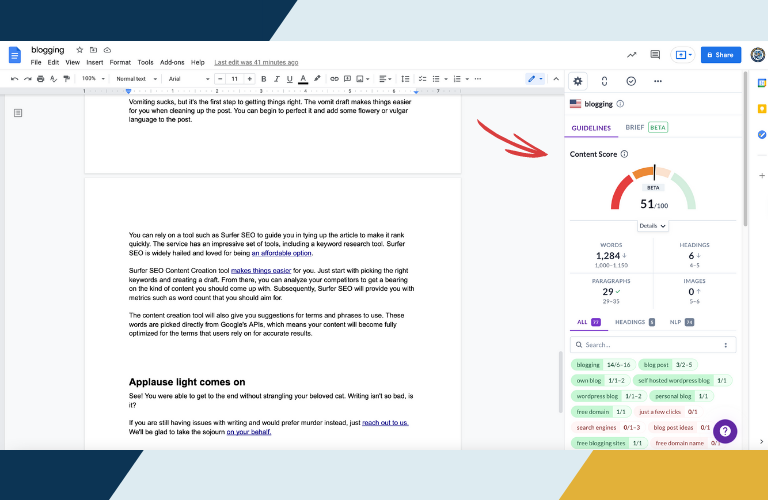 Writing or any creative effort is much easier when you have something to work with. Vomit draft on hand, you can turn your base prose into flowing poetry or just a string of words that describe why your product or service helps solve a problem of your audience. 
You can use digital tools like Surfer SEO to help structure your vomit draft and make it rank quickly. Surfer SEO is widely hailed and loved for being an affordable option.
Their Content Editor tool makes things easier for you. Just start with picking the right keywords and creating a draft. From there, you can analyze your competitors to get a bearing on the kind of content you should come up with. Subsequently, Surfer SEO will provide you with metrics such as word count that you should aim for.  
The content creation tool will also give you suggestions for terms and phrases to use. These words are picked directly from Google's APIs, which means your content will become fully optimized for the terms that users rely on for accurate results.  
Congrats! You Have a Finished Web Log With Minimal Drama
You did it! You finished the post without strangling your beloved cat or hubby. Writing isn't so bad, is it?
 If you put this post into practice and still find writing and blogging equivalent to the act of moving in Hades 24/7 or dragging a cold corpse through hell, just get in touch. We have ample experience and can sojourn said corpse on your behalf.