If you're a B2B business, you might be curious about the benefits of LinkedIn marketing.
If you're not, you should be! You're jumping out of an airplane without a parachute, missing an opportunity to strip mine the largest business database in the world.
What Is LinkedIn Marketing?
LinkedIn marketing is the use of the online social networking site LinkedIn to build connections, mutually beneficial relationships, and rapport with different stakeholders from and outside your industry. These can be business partners, prospective customers, or potential employees/team members.
Why You Should Be Marketing on LinkedIn Right Now?
LinkedIn is a medium that forms an indispensable part of your social media marketing campaigns. It allows users to achieve marketing goals and business objectives such as generating leads, increasing brand reputation and awareness, and driving sales.
It provides you with handy business analysis tools. It's where you'll meet most of your ideal clients or customers.
Basically, we're living in such a digital marketing and social media era that if you are not promoting yourself on the largest business database in the world, then you are lacking "drip," as the young people say.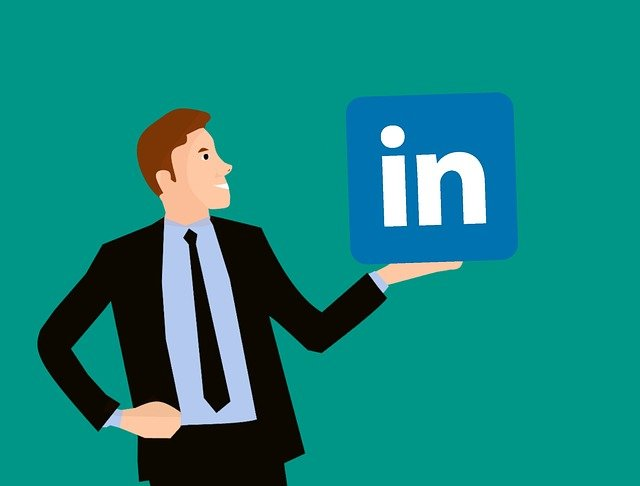 The Evidence on LinkedIn Is Clear
Most of the LinkedIn B2B marketers use the platform for organic marketing. This network has a great reputation for yielding the most relevant organic results. It is also the go-to lead generation for companies regardless of their industry. Check out these interesting stats that are not necessarily seen on other social media platforms.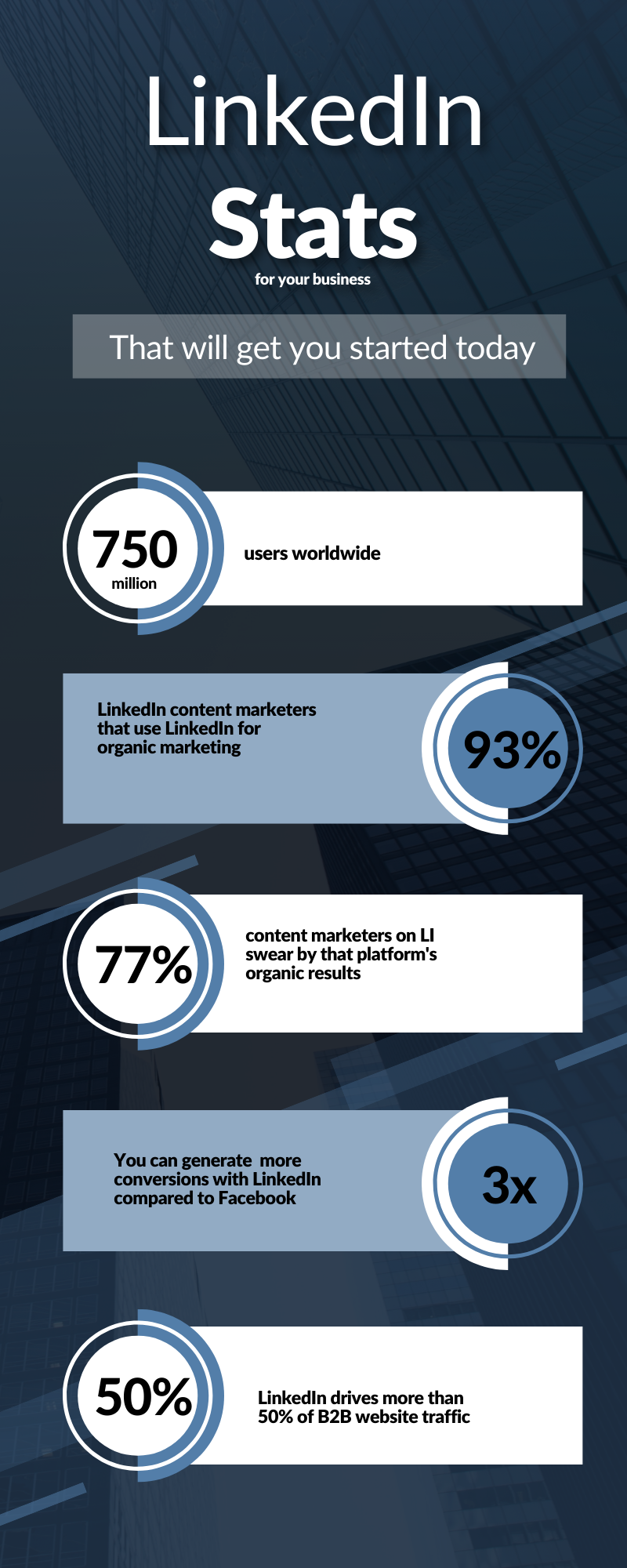 What Is LinkedIn Organic?
"Organic" content is basically content that you do not pay to show. It's nonpaid advertising and does not appear as a paid promotion on your future customer's news feed.
Your LinkedIn Success Is a Few Trackable Metrics Away
The site offers some internal analytics that you can track to make data-driven decisions, achieve your goals, and optimize your efforts.
Reach signifies how many times the content you have shared has been seen by users.
Impression is the amount of times your content has been displayed on profiles' feeds.
Follower demographic that includes job seniority, location, industry….
Clicks which is the number of clicks you get on your content to land on your website.
Targeting
The LinkedIn platform allows you to customize your industry-specific variable searches which is ideal for B2B businesses. If you have a company page or are using your personal LinkedIn profile, you can easily reach out to your target audience or future customers. We can even start calling this process professional networking instead of targeting!
Pocket-Friendly Platform
You can start joining groups and interact and exchange information with your group members. You often hear gurus preaching LinkedIn advertising. You may be using a free account or subscribing to one of LinkedIn's services. One of the tools businesses are increasingly using is Sales Navigator, LinkedIn's premium offering offering advanced search capability.
If sign up for Sales Nav, LinkedIn will automatically give you one month free. We at Content with Teeth can get you two free months to check out the platform and see if it's a good fit. Sign up for a free consultation and we'll hook you up.
What About Your LinkedIn Marketing Strategy
Your LinkedIn marketing strategy is basically similar to any other social media marketing strategy. However, you need to work on positioning yourself as a thought leader in your industry. This also depends on what you are really there to do. Are you on LinkedIn to attract new talent, increase your sales or brand awareness, engage with your target audience, reveal your expertise or connect with similar professionals in your field?
The Beginner's Guide to Organic LinkedIn Marketing
Fully utilize the magic search tool LinkedIn offers that allows companies to target the users they are looking for. This isn't necessarily found on other social media platforms or social networking sites.
Is Marketing on LinkedIn Worth It?
Totally, and we're skipping the LinkedIn ads too! We'll spill some tea here: you don't have to spend tons of money on advertising anymore!
One thing you really need to take care of though is generating high-quality content. Opt for quality over quantity.
Advanced Search on LinkedIn for Free
If you don't have the budget to invest in LinkedIn Sales Navigator now, don't worry. We've got you covered. You have the ability to narrow down your audience and exclude specific people with Boolean search terms.
Although the number of times you can search something on a LinkedIn free version is limited to a certain number and period of time.
Hijack Boolean Terms in Your Search Hunt
Employ Boolean to narrow your focus in any version of LinkedIn from the free version to Sales Navigator.
The table below will teach you some of the parameters:
Get Your Hands Dirty with a Real Search for Professionals on LinkedIn
Let's imagine you are a marketing professional in the Miami area and your niche market is local IT companies that offer cloud solutions. You intend to target COO's.
Head to your LI profile and type in "cloud solutions" AND COO
Hit enter
You will get a list of results like the one below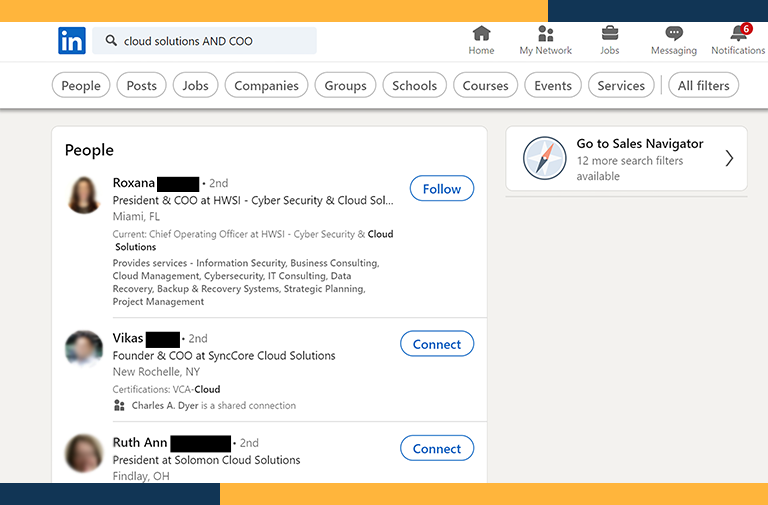 4.  The first level of search is the filter. You can pick any or all, depending on what you're looking for.
5. Choose All filters
6. From the panel below, tick the 1st, 2nd, and 3rd+ boxes
7. Next, scroll down choose your location. We are choosing the Miami-Fort Lauderdale Area.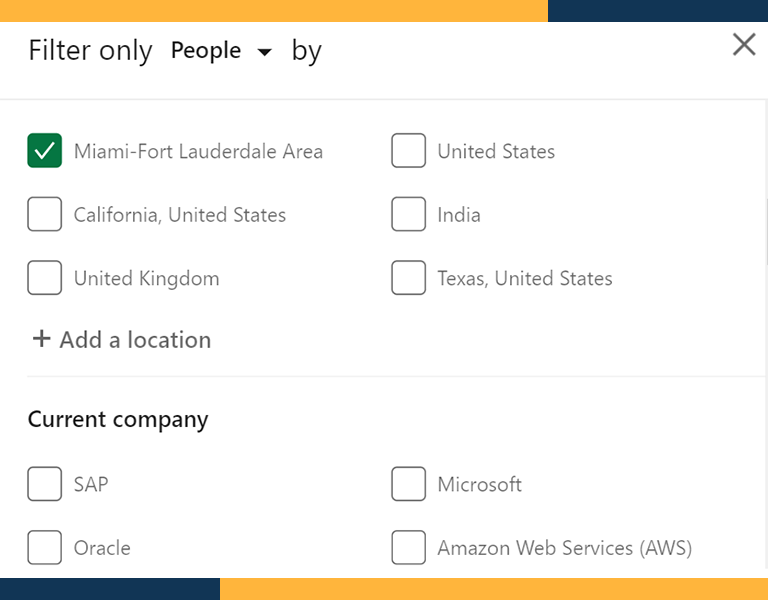 8. Now, you have a whole bunch of other practical filters you can use such as current company, past company, school, industry, etc…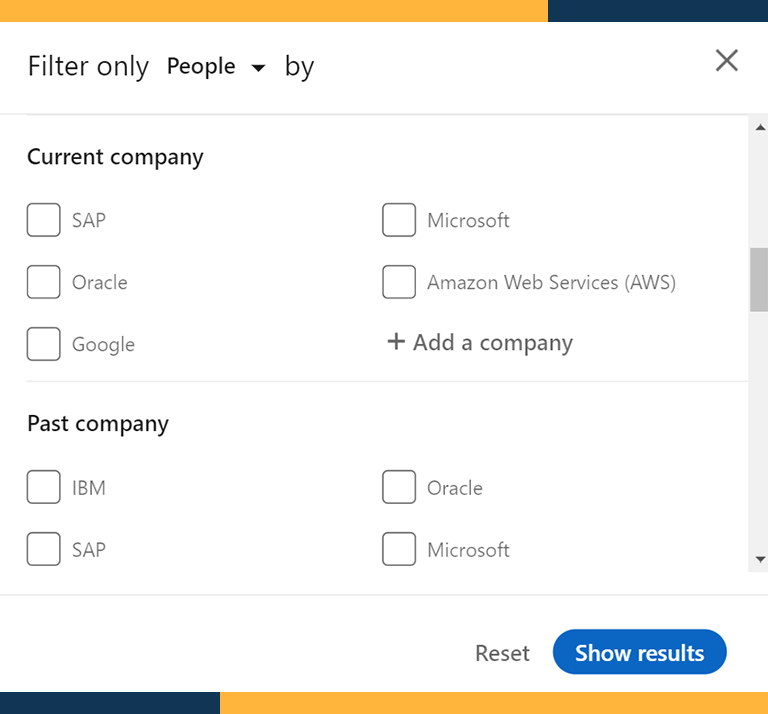 9. In our case, we'll check the Information Technology and Services box.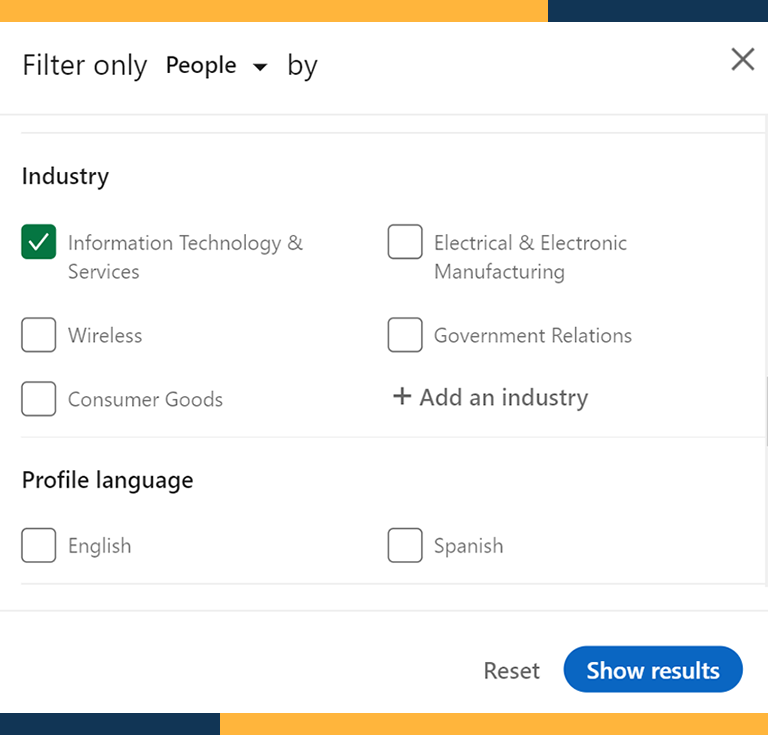 10. You can add in keywords, then hit "Show Results".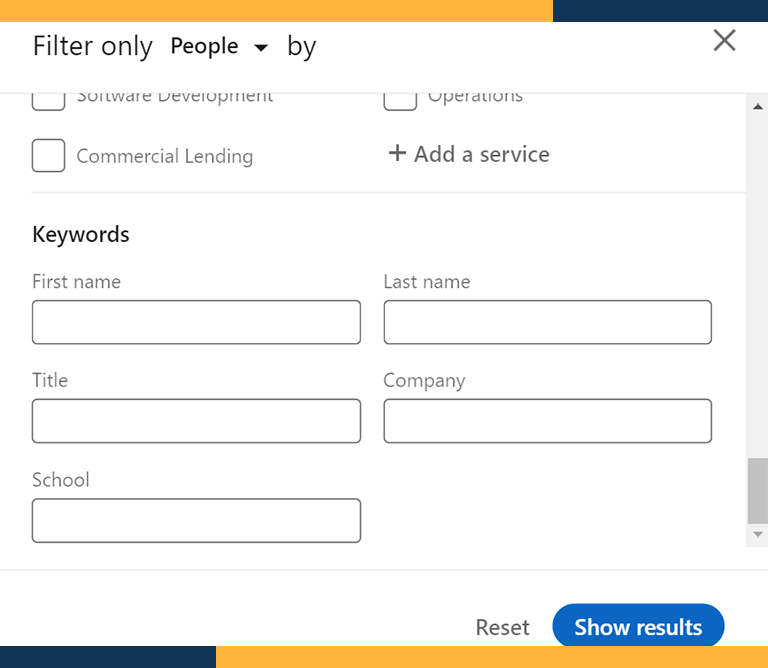 11. You will get a list of individuals that meet these criteria.
12. Choose a profile you're interested in.
13. Hit "Connect" on your prospect profile to send them a Connect Request or invite to engage.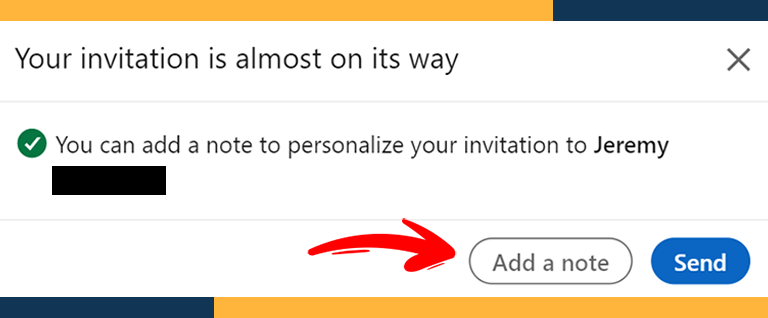 14. Click on "Add a note" to write a customized message. You should be politely asking the person for a connect request and stating what's in it for them. Remember that you have a 300-character limit. Hit send and congratulations! You're utlizing the power of LinkedIn marketing at minimal cost and time.
What About LinkedIn Sales Navigator?
There are more than 20 categories you can choose from. These include company size, seniority level, etc…
This precious LinkedIn tool has become indispensable to countless marketers out there. Basically, this takes your lead generation efforts to a new level and allows you to build meaningful business relationships. You may even skip social media!
However, if you are not currently ready to invest in SalesNav, the regular LinkedIn search function will get it done!
If you would like two months of LinkedIn Sales Navigator, please get in touch!
LinkedIn Organic Social Media Marketing Best Practices
Optimize your company pages (about, title, cover photo, profile photo, posts…). Remember, this is not Facebook. So, forget the personal and focus on the educational and professional.
Make sure you have a website to direct your audience to (and to increase your web traffic at the same time.)
Work on building your network as much as you can.
Create and share thought leadership articles with your network. Yes, long-form content is still in. You just have to use tactics to make your prospect read your work.
Make sure you are conducting LinkedIn search engine optimization. Think of LinkedIn as one of the search engines you're familiar with. This means that you should be using keywords that your audience may use to find you in your title or About area.
Content With Teeth and Your LinkedIn Marketing Efforts
Learn how you can benefit from and leverage your LinkedIn page to fuel your company growth and generate quality leads for your business.
If you need guidance on your LinkedIn marketing strategy, consult with Content with Teeth. We're ready to take the plunge out of the plane WITH parachutes. Get in touch for a free consultation.